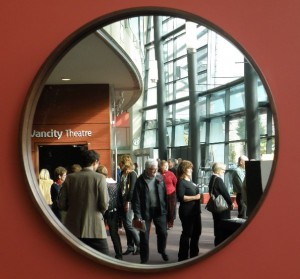 On Sunday, November 6th, the City of Vancouver Archives successfully hosted its second and final 125th anniversary event of the year: Celebrating Yaletown Productions. Marked by a matinee screening at the Vancity Theatre at the Vancouver International Film Centre, this event highlighted the 40-year filmmaking career of Mike Collier and the development of his film production company, Yaletown Productions. This screening showcased a younger Vancouver, reminding viewers about how much the city has changed in less than a lifetime.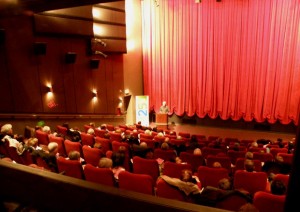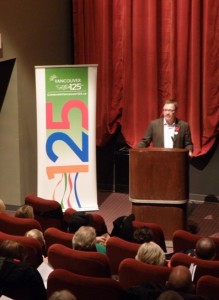 The Yaletown Productions Inc. fonds contains over 300 hours of audio-visual material. Collier curated the screening by selecting film excerpts from various phases in his filmmaking career, and condensing and summarizing his life into 120 minutes.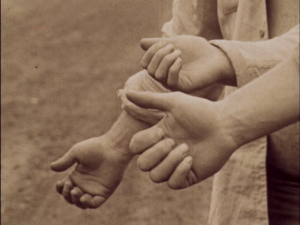 To name only a few, there were surrealistic experimental and student films, Tommy Tompkins wildlife films shot in the British Columbian backwoods, Province Reports on the development and progress of Vancouver in the years leading up to Expo 86, a military recruitment and training film shot in Chilliwack, and a theatrical short about the Snowbirds.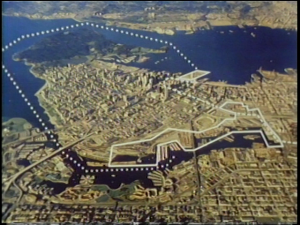 Much to our delight, this event was very popular. We packed the entire theatre, and prior to the event, the wait list reached a total of 60 people! For those who missed the screening, or for those who attended but want to see the full length films, many of the moving images are currently available for viewing at the Archives, and will be accessible online in early 2012.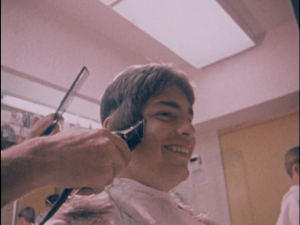 This screening's smooth operation is due to the many Archives volunteers who helped to check in guests, handed out programs, and showed up early to help with the poster assembly.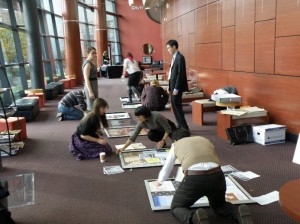 This screening would not have been possible without months of hard work from many of the Archives staff. Cindy McLellan, who wrote last week's blog post about the Yaletown Productions Inc. fonds, joined the Archives earlier this year to arrange and describe both the textual and audio-visual records of Yaletown Productions, and is largely responsible for making these records available to you.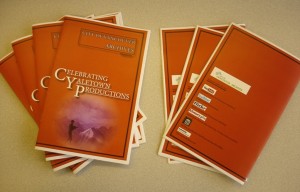 Digital conservator Sue Bigelow and digital archivists, Courtney Mumma and Glenn Dingwall have been working on the front lines with a worldwide network of other digital archivists to develop a system to ensure that threatened media such as video tape (many of which are in the Yaletown Productions acquisition) can be converted to non-proprietary and open-source formats to guarantee future accessibility.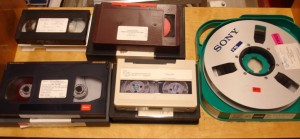 The Archives is proud to have provided the city with highlights from its history in this landmark year. The Celebrating Yaletown Productions screening appropriately accompanies another event the Archives hosted earlier this year. Some of you may recall that back in May, we launched online one of the Archives' most frequently used resources, Early Vancouver. Having recognized that the city's first residents would only be able to tell their story for so long, Major James Skitt Matthews set on a mission to interview all of Vancouver's last remaining residents who had been alive before 1886, the year of the city's incorporation. This set of interviews has become known as Early Vancouver. 25 years in the making, from 1931 to 1956, Early Vancouver is seven bound volumes, totalling over 3000 pages of text, photographs, maps, illustrations, and interviews. Early Vancouver, which was until recently only accessible in person in the Archives Reading Room, is now electronically available on our website, or through the City of Vancouver Archives' Internet Archive webpage.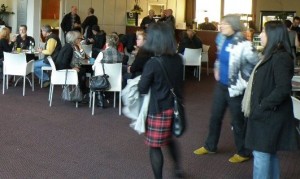 Sunday's Celebrating Yaletown Productions event is also a celebration of this valuable moving image addition to the Archives' holdings. As Early Vancouver describes a Vancouver few alive today have experienced, we have assurance that likewise, the films of the Yaletown Productions Inc. fonds will continue to become an increasingly valuable historical record well after our own lifetime.