Earlier this year, Harry Swain of Victoria donated a photograph to us and it caused great excitement. Here it is: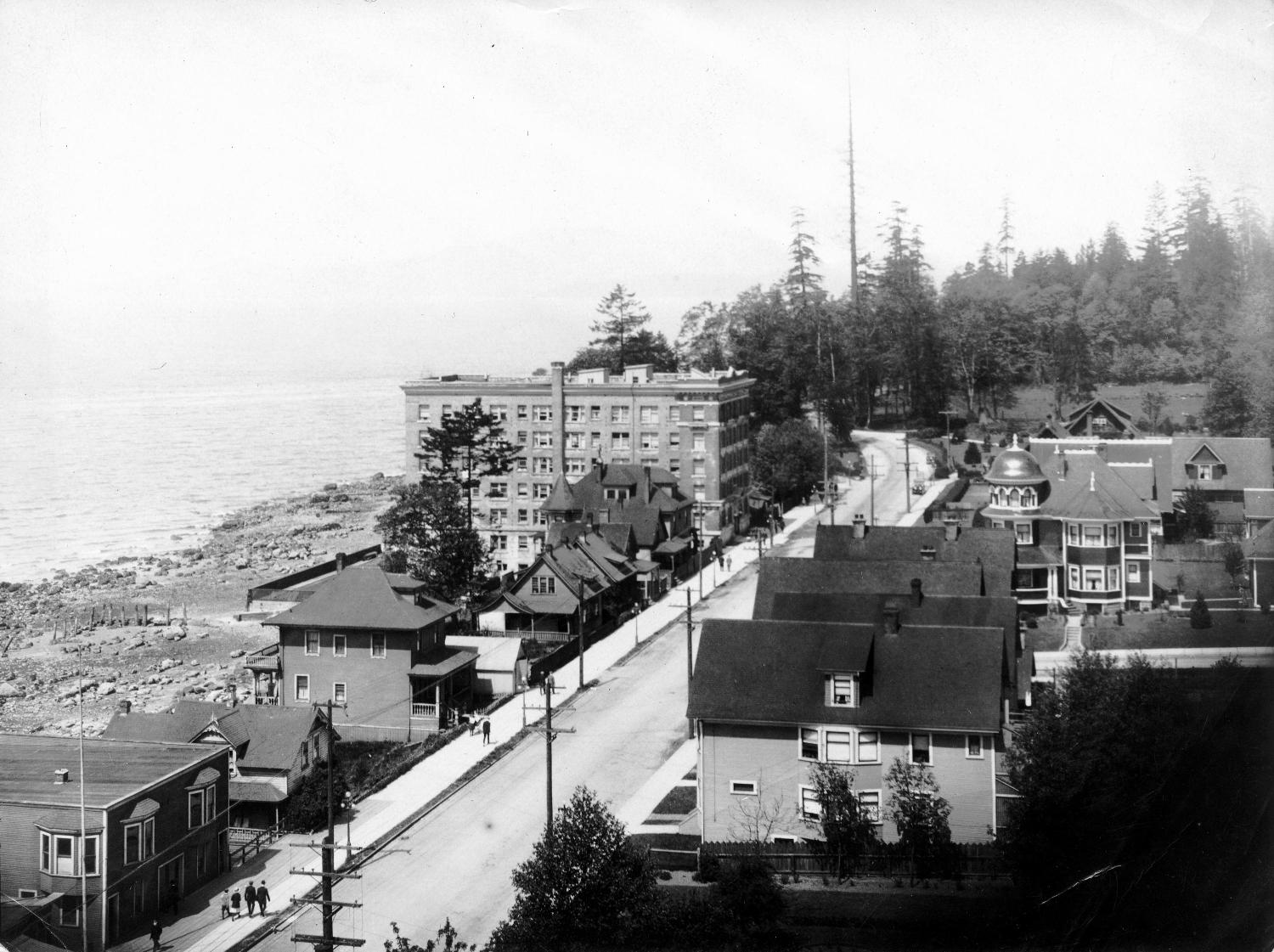 Here's why we were excited. The 1900 and 2000 blocks of Beach Avenue no longer have buildings on the water side. There are very few good views of the buildings that existed there and nearly all of them were taken from the beach rather than from across the street. This is the only view we have that shows these long-gone buildings from this angle.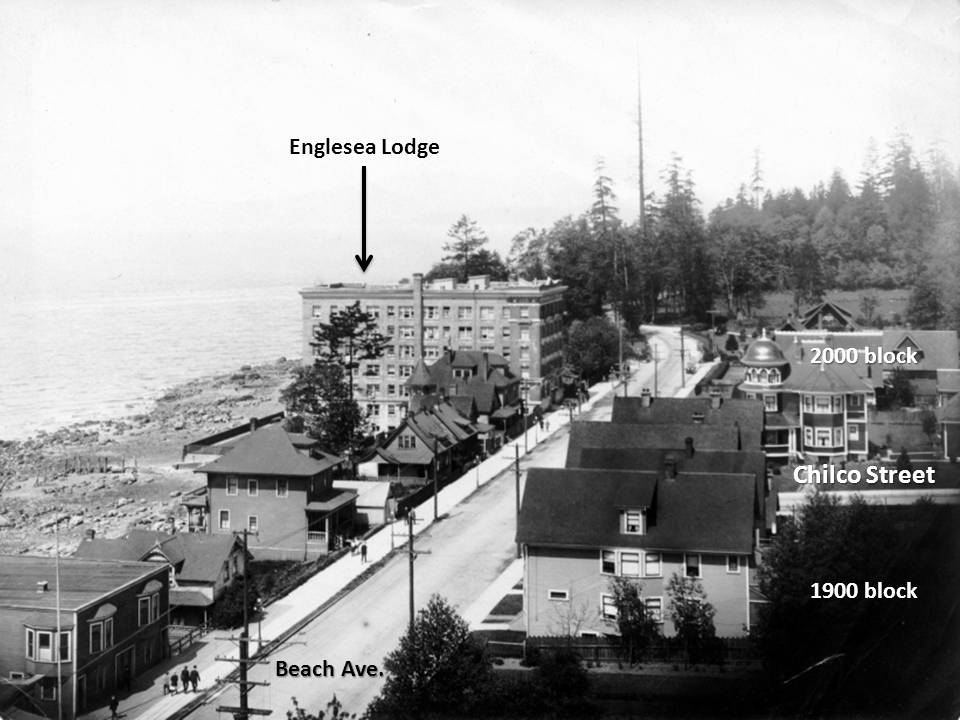 This view down English Bay beach shows the direction from which the photograph must have been taken: high up in the Sylvia Court apartment building (now a hotel), facing the buildings in the distance.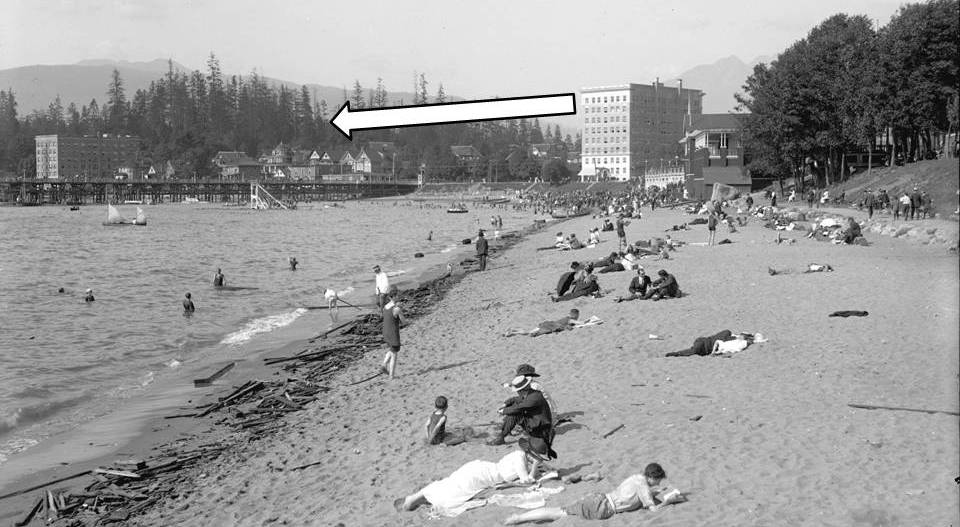 For a completely different (and not photographic) view of these buildings, we can look at Fire Insurance Plans. These detailed plans were created by fire insurance underwriters to evaluate fire risks.
This plan was created in 1893 but updated to 1901. The updates were made by gluing new pieces of paper onto the old plan. You can see that the alignment is a little off here: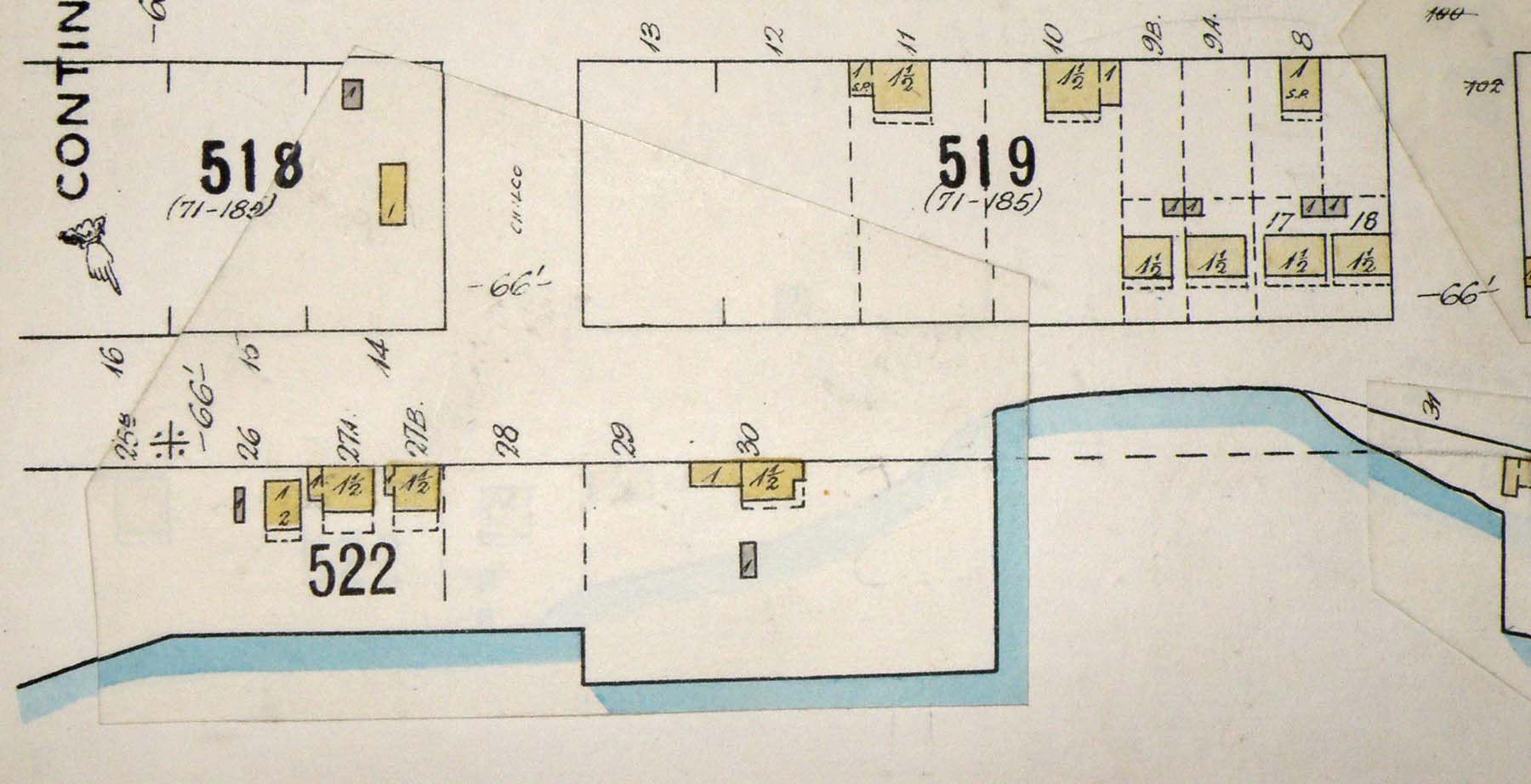 There were a few buildings on the water side. The real fun was a few blocks over.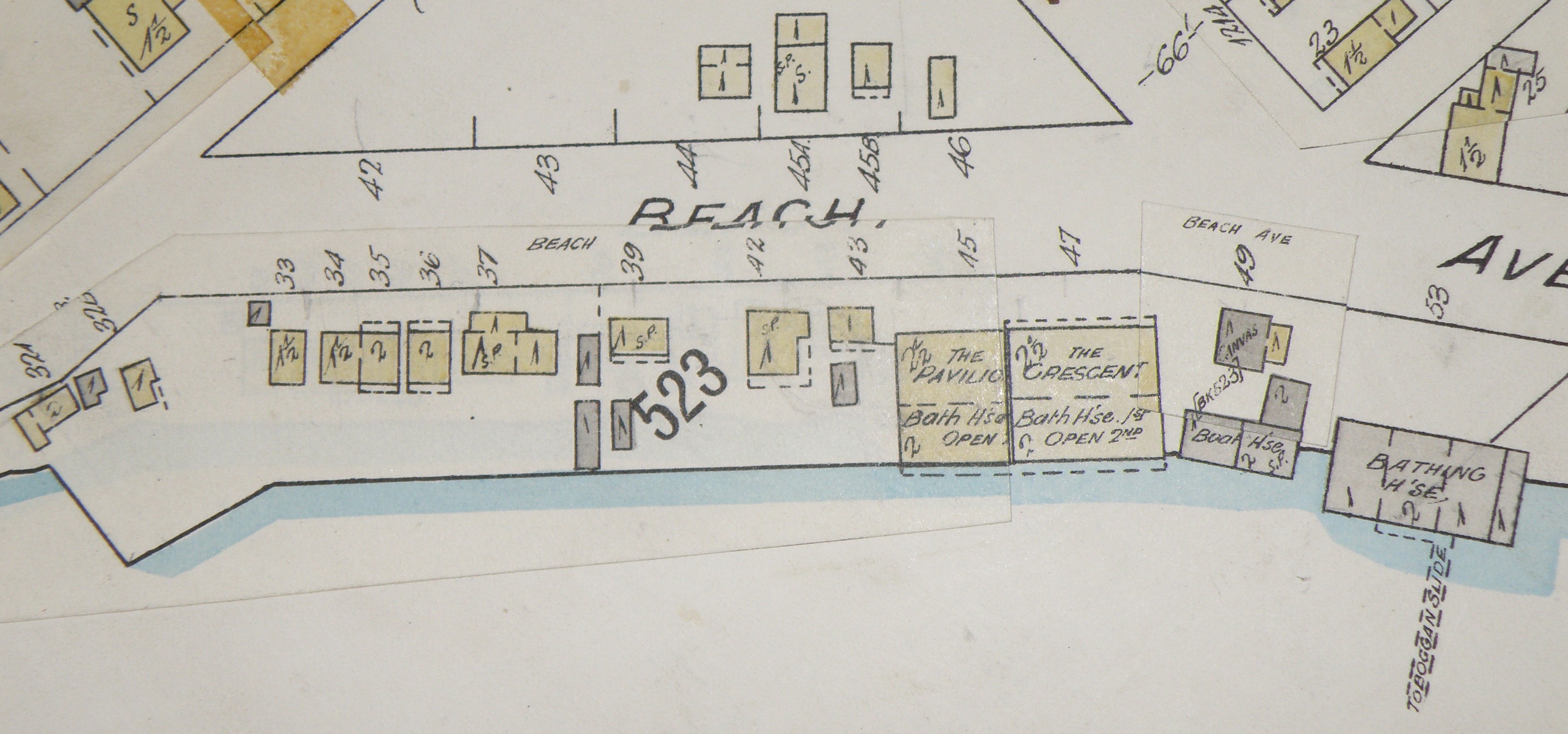 The following plan is from 1912, closer to when the 1913 photograph was taken. Note that the original shoreline was outlined. This plan was annotated in pencil by Major Matthews, the first City Archivist. We don't write on the records any more.
The photograph would have been taken from pink building "7" (the Sylvia), facing toward the Englesea Lodge.
Another view of these buildings from a few years later is the hand-coloured photograph we used as our first Twitter background.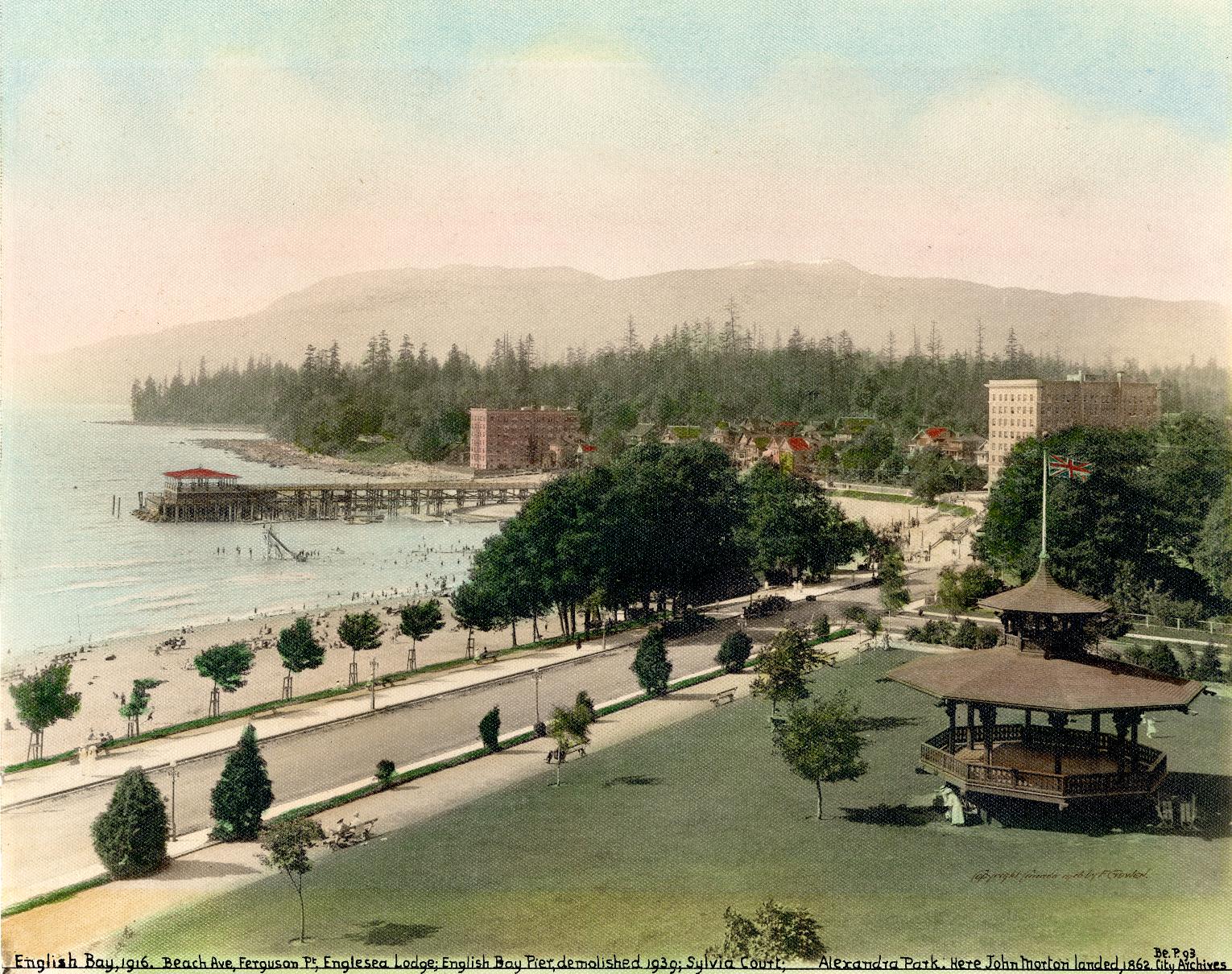 This photograph gives a good view of the Alexandra Park bandstand and the English Bay Pier.

In 1909, large boulders were removed from the beach and used for the construction of English Bay Pier, and sand was pumped from the ocean bottom to create the sandy beach. The Pier was demolished in 1939.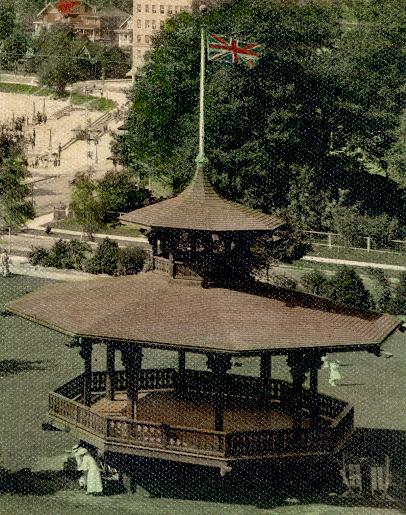 Alexandra Park Bandstand was built in 1914 and concerts were subsequently held there instead of at the Pier bandstand. It was renamed the Haywood bandstand to acknowledge the contribution made by Haywood Securities toward its 1987 restoration. It is now a designated heritage building protected under City of Vancouver Heritage By-law No. 4837.
For more on the buildings on these blocks, especially Englesea Lodge, see this post by Eve Lazarus on her blog.