Researchers often point to the Sam Kee Company fonds or the Yip Sang family fonds as important records in our holdings that document Chinatown's history. However, the first group of Chinese records acquired by the Archives was the Kuo Kong Silk Company (國光絲髮公司) fonds. Kuo Kong Silk Company was a retail shop located in Chinatown that operated for over 70 years.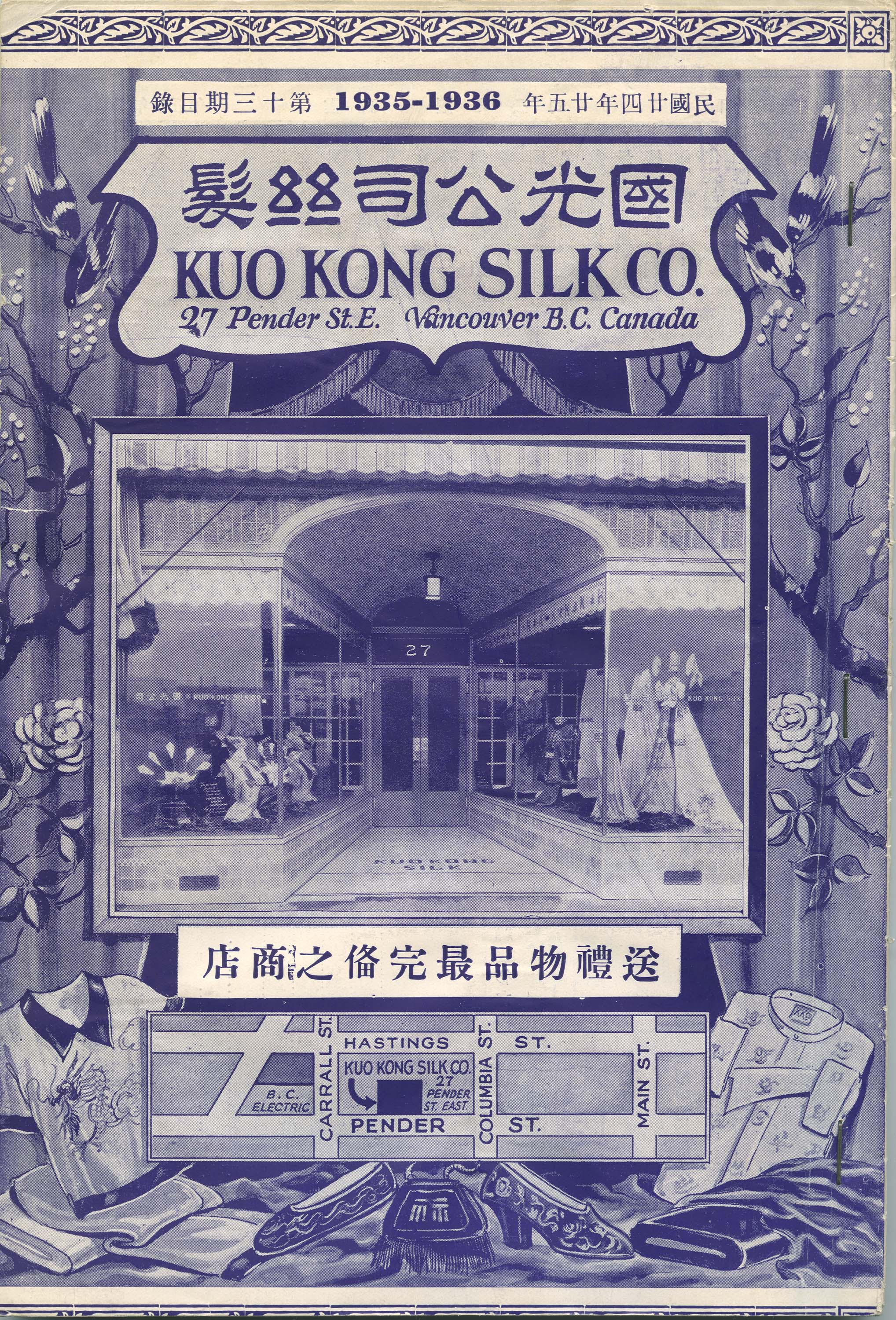 The records were donated by Mrs. S. Jackman, proprietor of the company, in 1975 and include business correspondence, financial records and statements, personal correspondence, silk samples and product catalogues.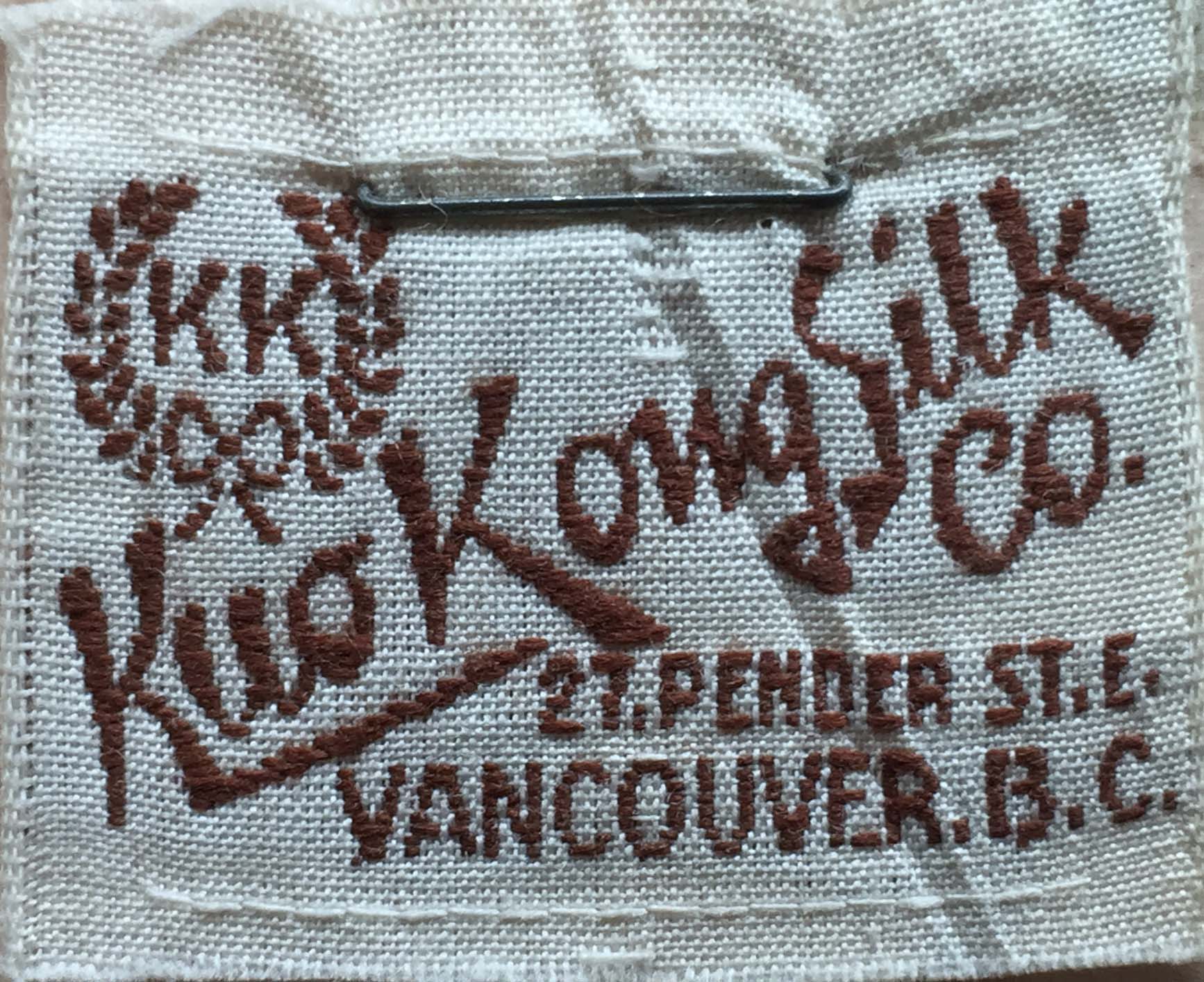 The company was founded by Mr. G. Jackman (朱直民) and Mr. Mah Young (馬宗揚) in 1922 and first appeared in the Wrigley-Henderson British Columbia directory in 1925. The company was originally located at 47 East Pender Street and was moved to 27 East Pender Street in 1927. In 1937, the company expanded its business by establishing two subsidiary operations, International Clothing (located at 44 East Hastings Street) as another sales arm, and National Dry Goods Manufacturing (located at Market Alley) as an additional manufacturing outlet. Besides selling silk products imported from China, the company manufactured fine silk dress shirts, sheets, pillowcases, work shirts, restaurant uniforms, and overalls. These goods, plus a wide range of men's and women's apparel, were sold along with Chinese curio items. The company continued to operate until 1987.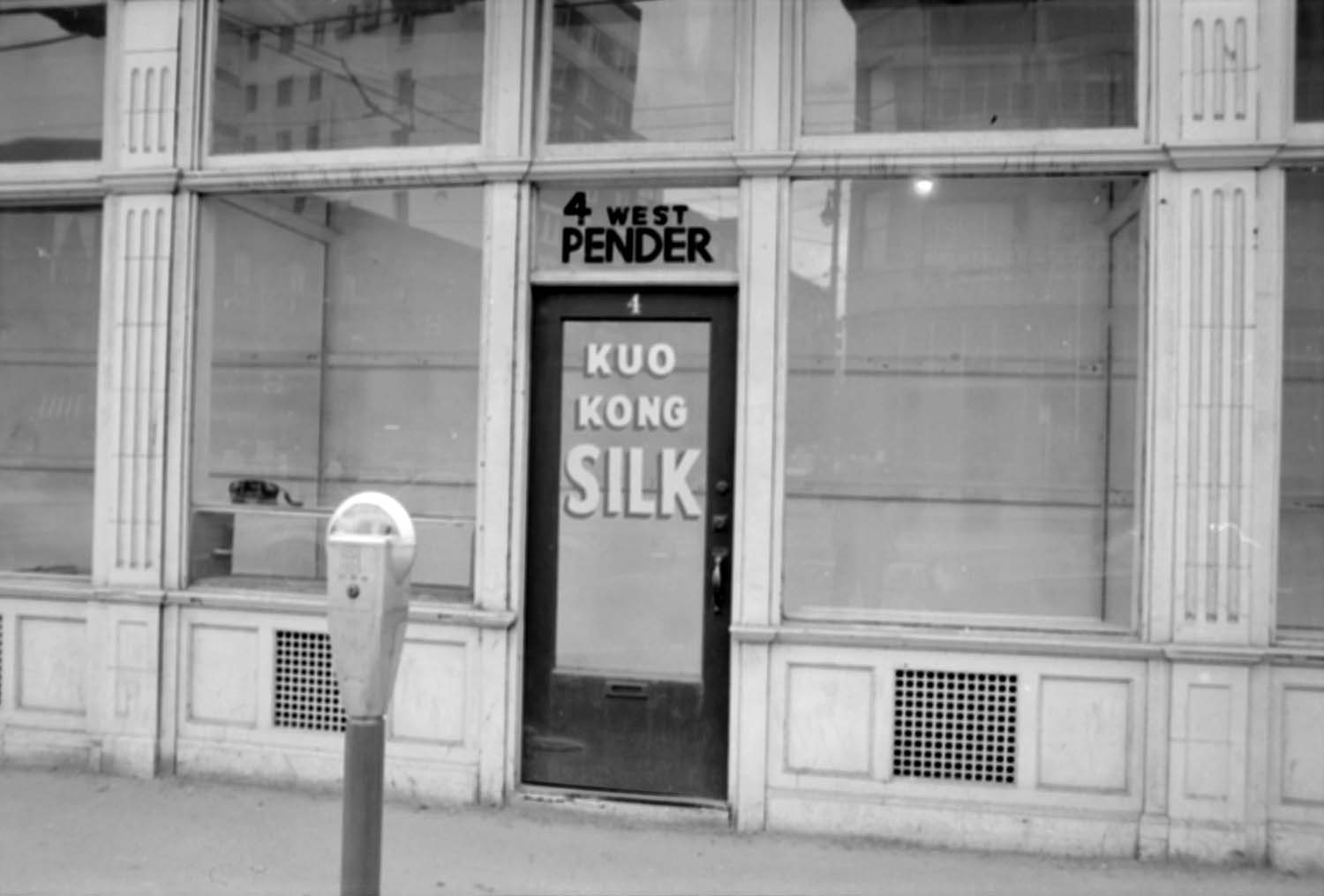 Although the company was based in Vancouver, its business activities were by no means limited to the city. By 1930, a mail order system was in operation to sell goods across the country. This progressive approach is evident in the company's records. In order to keep track of customers and promote its products, the company kept very detailed client records and was one of the very few companies in Chinatown that published its own catalogues.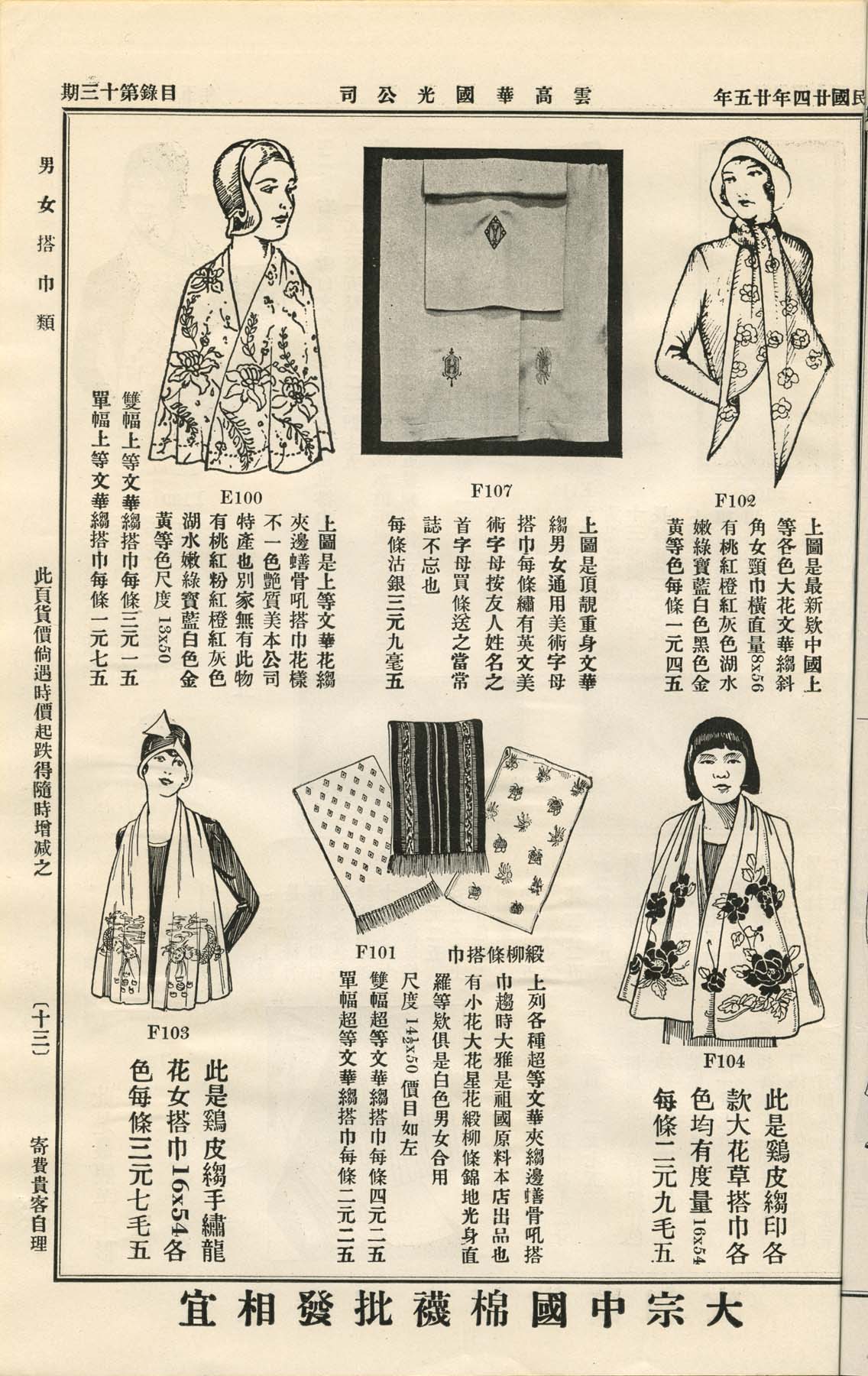 Besides selling their goods nationwide, the company also actively expanded its business from the Chinese community to mainstream society. They even issued English versions of their catalogues. In the catalogues, the company stated clearly that a special bonus would be offered to any customer who could refer a new "westerner" customer to the company.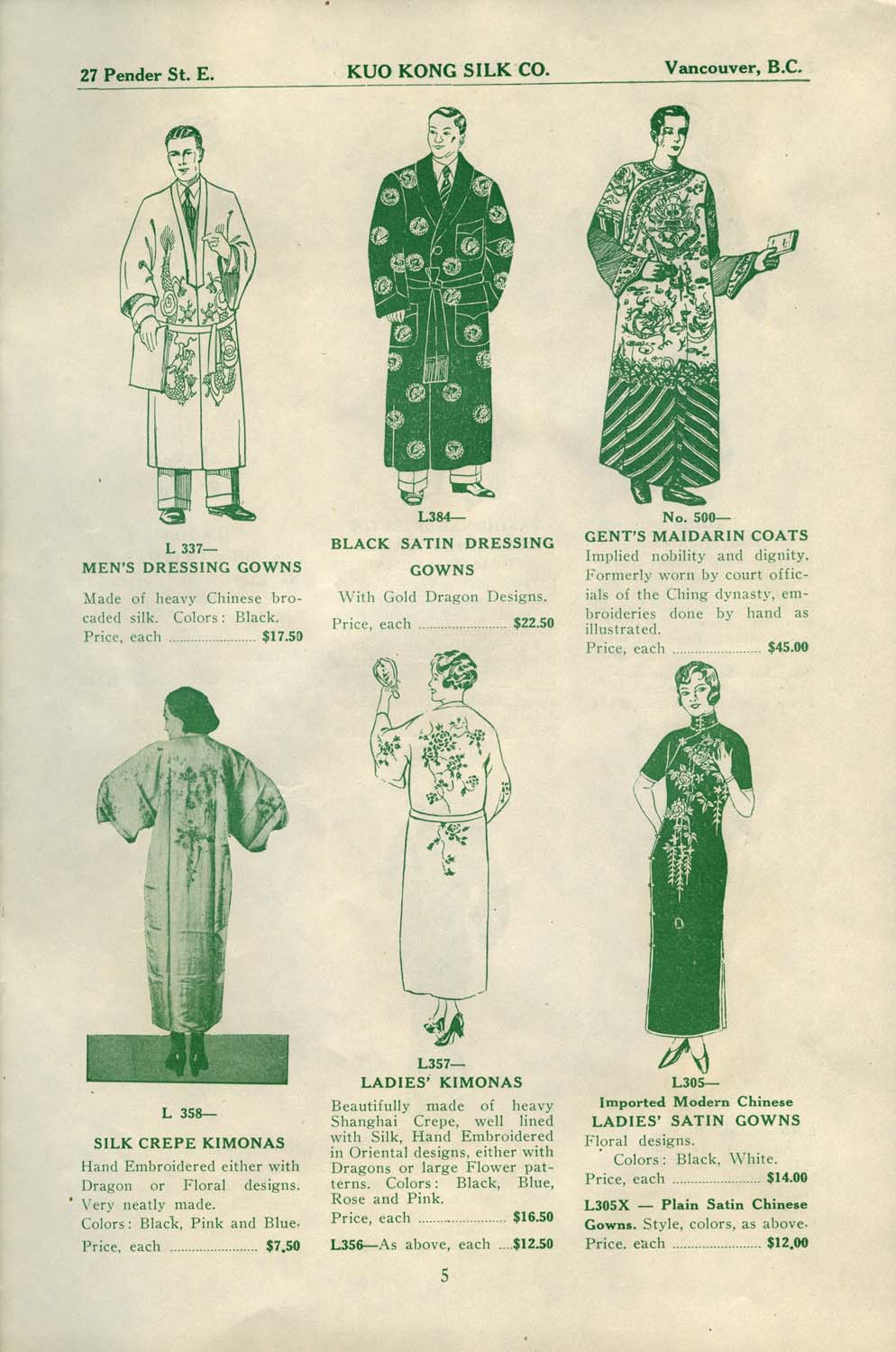 With a good sales strategy, the company set a successful example for small businesses in Vancouver. Even during the harsh years between 1940 and 1945, according to the company's balance sheets, its average yearly gross sales income was about $70,000.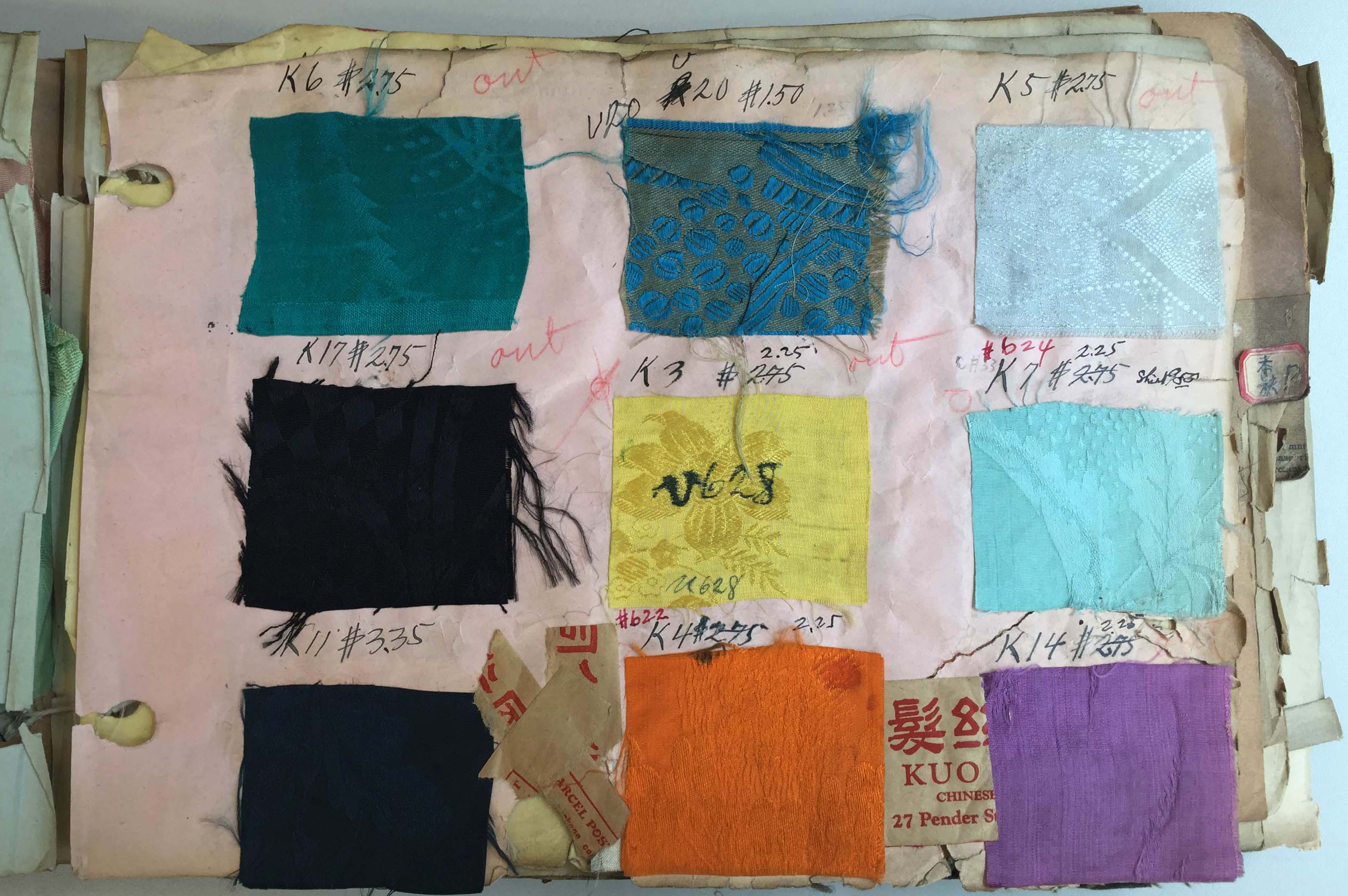 There are many interesting insights to be gained from the records. By reading the company's 1940 catalogues, we learn that a silk dress shirt was $5.50, a pair of dress pants was $3.75, and a J.A. Henckels 12.5" cutting knife was only $4.25. Moreover, offered a seven-day return or exchange satisfaction guarantee to their customers. The employee records show that in the 1940s a store manager earned $38.46 per week, a clerk earned $15 per week and the standard working hours were 44 per week. In a 1945 staff record, it is startling to discover that over half of the company's 12 employees were not Chinese.
The Kuo Kong Silk Company records not only supplement the Archives business holdings but also document a successful Chinese business operation in the last century.
[Editor's note: An earlier version of this post appeared in Archives Newsletter Volume 3, Number 1: Spring 2007]