Happy Holidays and all that from the Archives! Also, a reminder that the Archives will be closed from noon on December 24, 2019, until 9am on January 2, 2020, for the holiday season.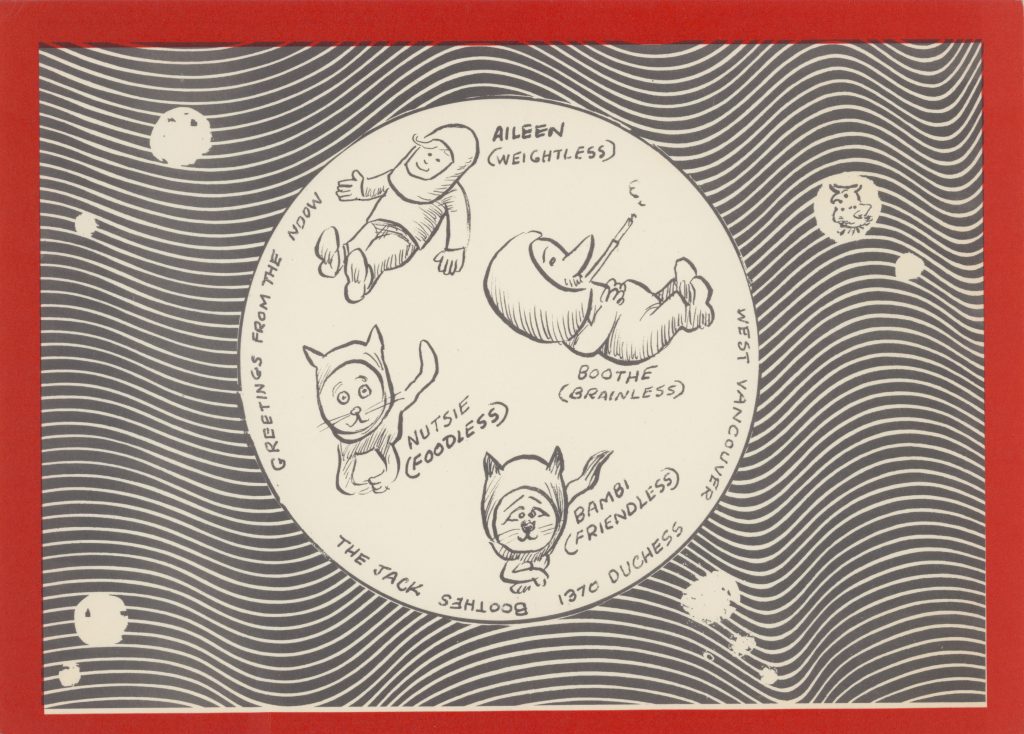 This year's season's greeting comes from the Jack Boothe fonds. We thought Jack Boothe's fun holiday card wishing the recipient "Greetings from the moon" was an appropriate card to pay homage to the moon landing of 50 years ago. Although the exact year this card was drawn for is unclear, we can surmise from some of its clues that it was for a Christmas sometime between 1969, when the Jack and his second wife Aileen (née Brownrigg) moved to West Vancouver (note the Duchess Avenue address), and 1972, the last Christmas before Boothe's death, which occurred in August 1973.
Jack Boothe was a cartoonist and writer, who worked for The Vancouver Daily Province, as well as other Canadian newspapers throughout his career. He was born John William Douglas Boothe on August 20, 1910, in Winnipeg to Mabel and J. Howard Boothe, but grew up in Vancouver, where he graduated high school. He received his formal art training at the Chicago Academy of Fine Arts before he began his work with The Vancouver Daily Province in 1930.
He was well-loved for his political cartoons. An article that ran in The Vancouver Daily Province on January 23, 1943, describing an exhibition of his work sums up his beloved style: "with decisive and expressive draftsmanship the cartoons…reveal an astonishing fertility of imagination. Satire is blended effectively with humor in a manner which arouses both mirth and reflection."
The Jack Boothe fonds includes more custom Christmas cards, many cartoons, original artwork, correspondence, newspaper clippings, published works, and other records created or received by Jack Boothe in relation to his work as a cartoonist.