Kristine Aguilar holds a Bachelor's Degree in Fine Arts from Concordia University as well as a Fine Arts Diploma from Langara College. While taking a break between degrees and considering her career options she has been volunteering at the Archives. One of the careers that she has considered is Audio Archivist. Preserving, organizing and making available audio materials is a specialized career which many people arrive at through an MLIS degree – this is one of several options that she has been researching. In the 100+ hours Kristine has contributed, she has worked on many projects for us.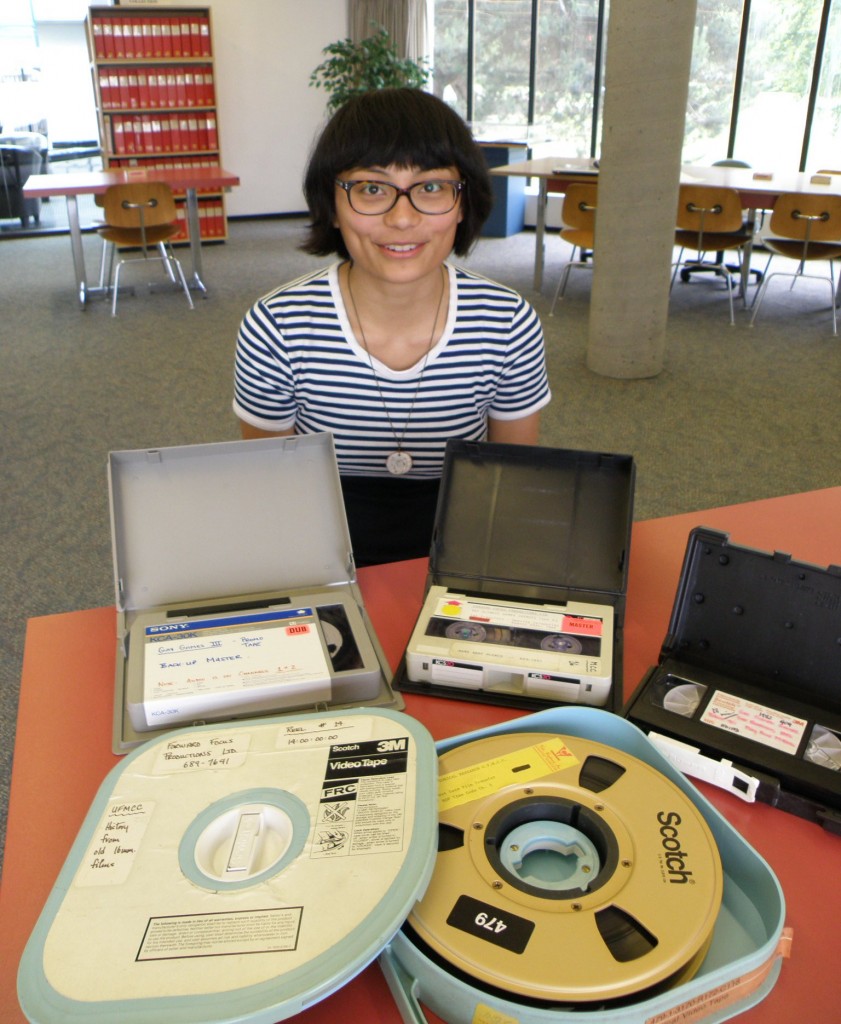 No audio projects have come her way at the Archives yet, but she did work on our Mary Anne McEwen donation of close to 400 video materials including video reels, Betacam, Umatic and VHS tapes. The content of these tapes feature footage of various Gay Games, including the 1990 Gay Games held in Vancouver, and episodes of Gayblevision, also known as Gay TV, a local weekly half-hour television program for gay people and by gay people. The program began in early 1980 and ran until 1986. The Archives is hoping to raise funds to digitize these tapes in the near future. As a first step toward organizing this exciting donation Kristine created a spreadsheet listing all of the pertinent information we will need to make appraisal and digitization decisions. This included typing out the titles, identifying the type of each cassette, and conducting an initial physical inspection of each cassette.
Kristine also transcribed and supplied titles for 200 of the photographs in Series S544 – Public amenity photographs, a collection of slides made by the City of Vancouver Social Planning Department in the mid-1980s. These photographs feature buildings and outdoor spaces in Vancouver, as well as Seattle WA, and Portland Oregon. She had great fun meeting the challenge of identifying where all of the photographs were taken.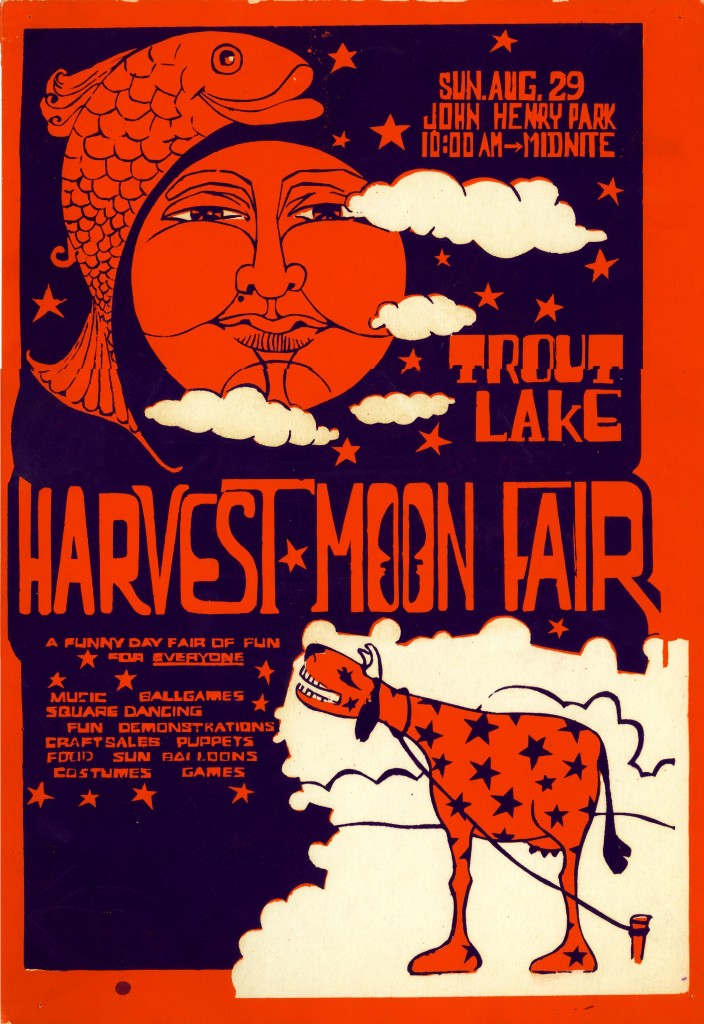 The Archives holds many records from the Vancouver Civic Theatres (which includes: the Orpheum, the Queen Elizabeth Theatre, and the Vancouver Playhouse). To add to our more traditional operational and organizational records we recently acquired a collection of posters. Kristine, along with a few other volunteers enjoyed sorting through the decades of posters and imaging the music, theatre, and art scene in Vancouver in the 60s, 70s and 80s and 90s. Posters were sorted by year and by size; keeping posters of similar size stacked together allows the posters to remain flat and not develop kinks.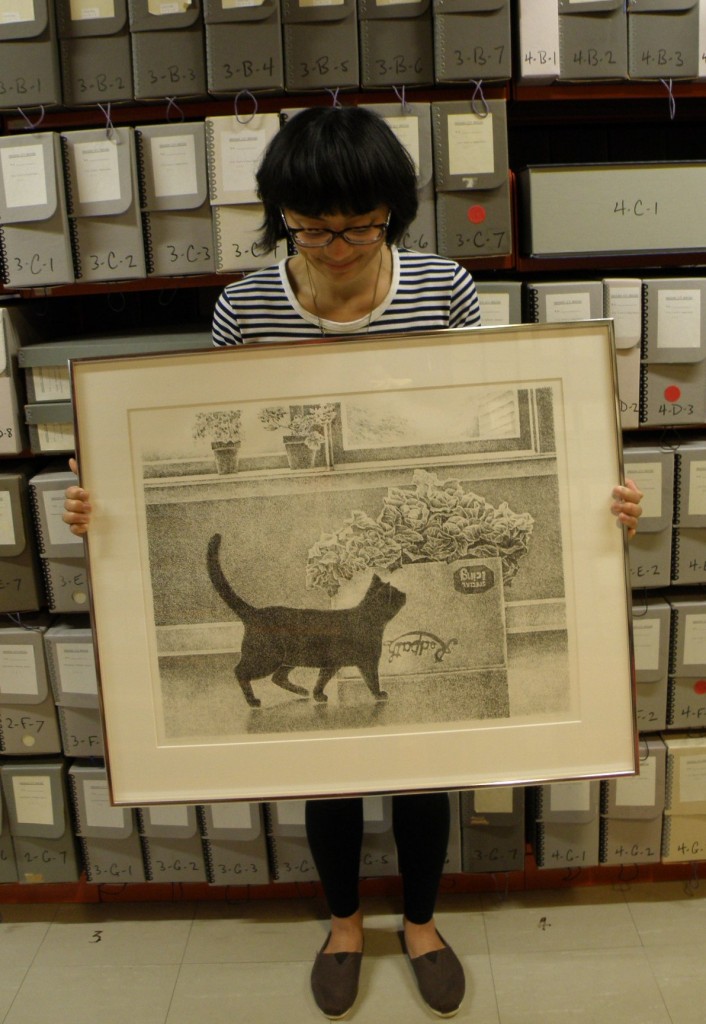 The lure of archival treasure hidden in the archives is another draw to this career path for Kristine. She read about an exciting find at the Jewish Archives of B.C.; Archivist Jennifer Yuhasz discovered some watercolour advertising mock-ups done by Jack Shadbolt. While helping to take items donated by Lantic from the BC Sugar fonds out of their frames Kristine did not find anything too surprising, but she did come across a Mary Pratt (which features a box with the label of a competing Canadian sugar company, Redpath). The BC Sugar fonds is full of archival treasures giving us a window into an important part of Vancouver's past as well as the history of the sugar industry.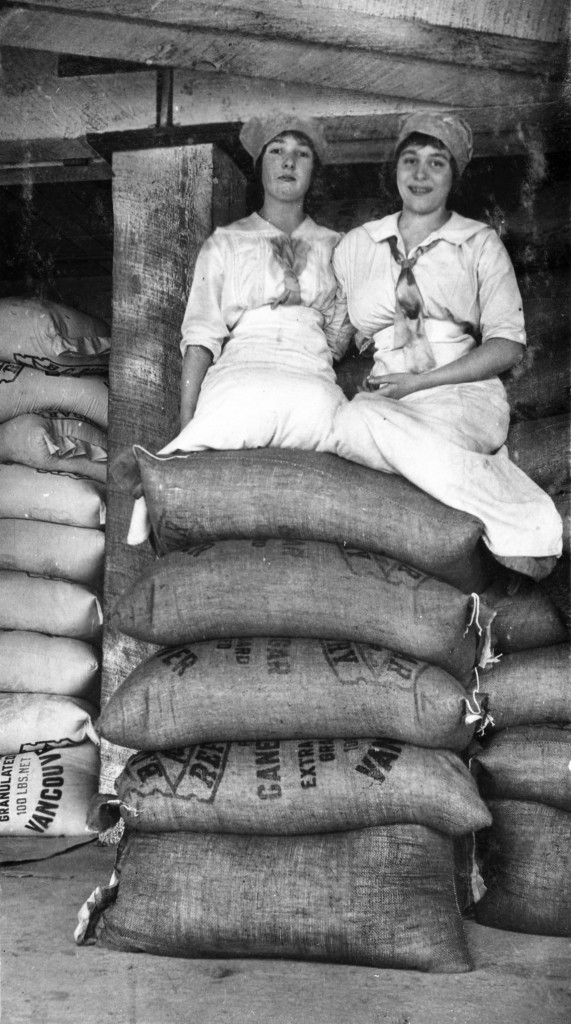 Thank you Kristine! Your time is greatly appreciated. And your contributions increase access to our collections.