The James Skitt Matthews building has been home to the Archives since 1972 and after more than four decades of service, the Vanier Park site has reached its full capacity. In response, the Archives plans to move to a larger space where we can continue to serve the public for many more years to come.
Prior to the move, many of the records in our holdings will require conservation before they can safely travel. Following best archival conservation practice, different types of records of varying media and size can be housed in standardized storage containers that are readily available from conservation supplies vendors. However, as widely diverse as these off-the-shelf containers are, there are still a large percentage of our holdings that does not fit into this system, specifically the oversized heavy bound volumes. The construction and size of most standardized containers are not large enough for these oversized volumes, or strong enough to bear their weight. A large part of the conservation effort in the Pre-move project will be focused on providing appropriate storage containers that can withstand the rigors of the move and also double as long-term housing for the item after the move.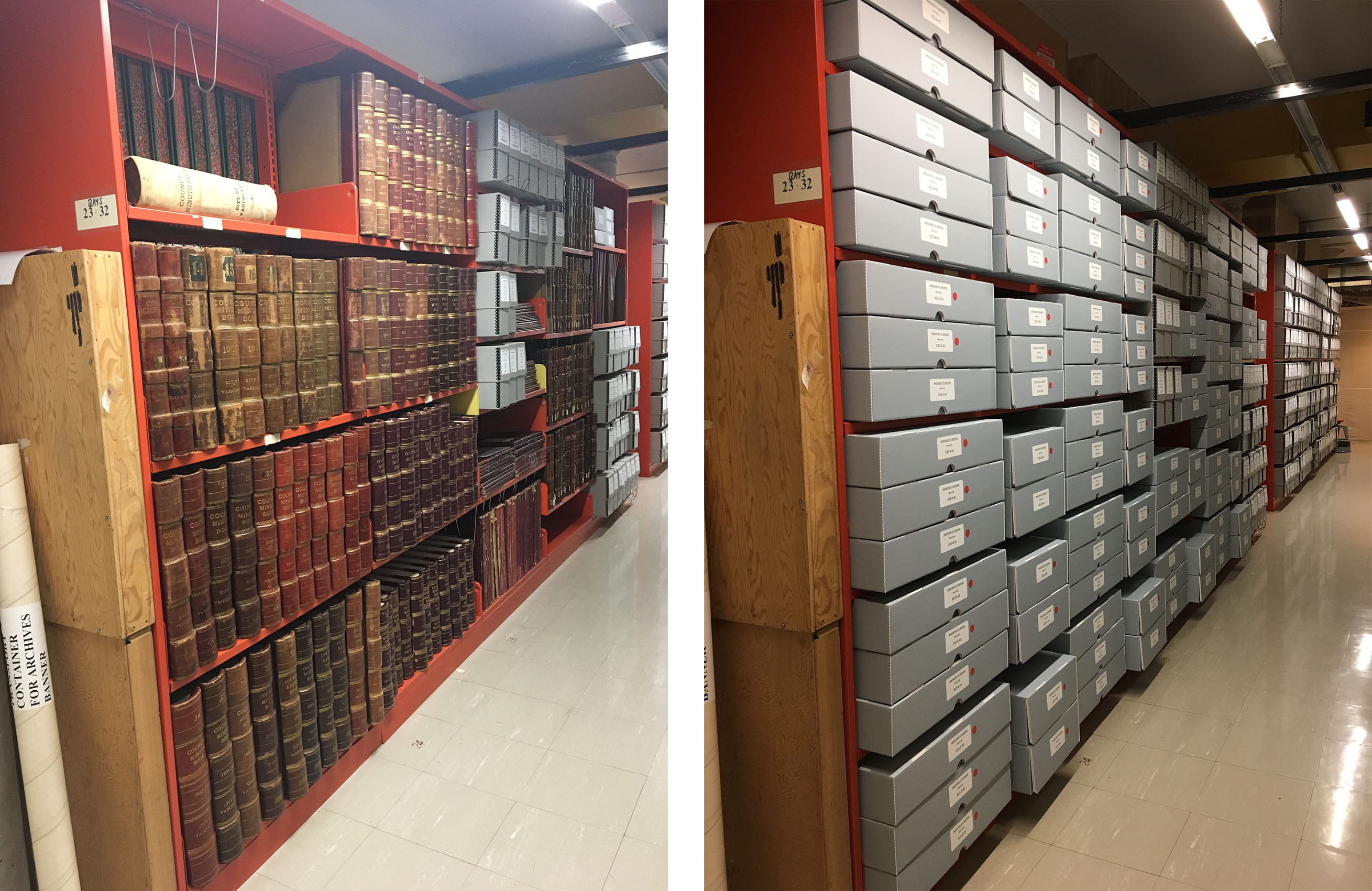 METHODOLOGY
It is not uncommon for our staff conservator to create custom storage containers that are made specifically to the dimensions of an item. However, this is a time-consuming process and is challenging to scale up efficiently. It is also difficult to re-shelve an assortment of non-standardized boxes into the limited space left at the current Vanier Park site. To solve this, our archival custom box supplier used a specialized digital cutter to pre-cut custom boxes in sizes that we have standardized. Many of the oversized bound volumes have a similar 'footprint' (or cover boards of the same size) but varying text block thicknesses. We designed our custom boxes according to the size of these 'footprints', but with varying depths. This standardization system allows for maximal stacking and optimizes our shelf space.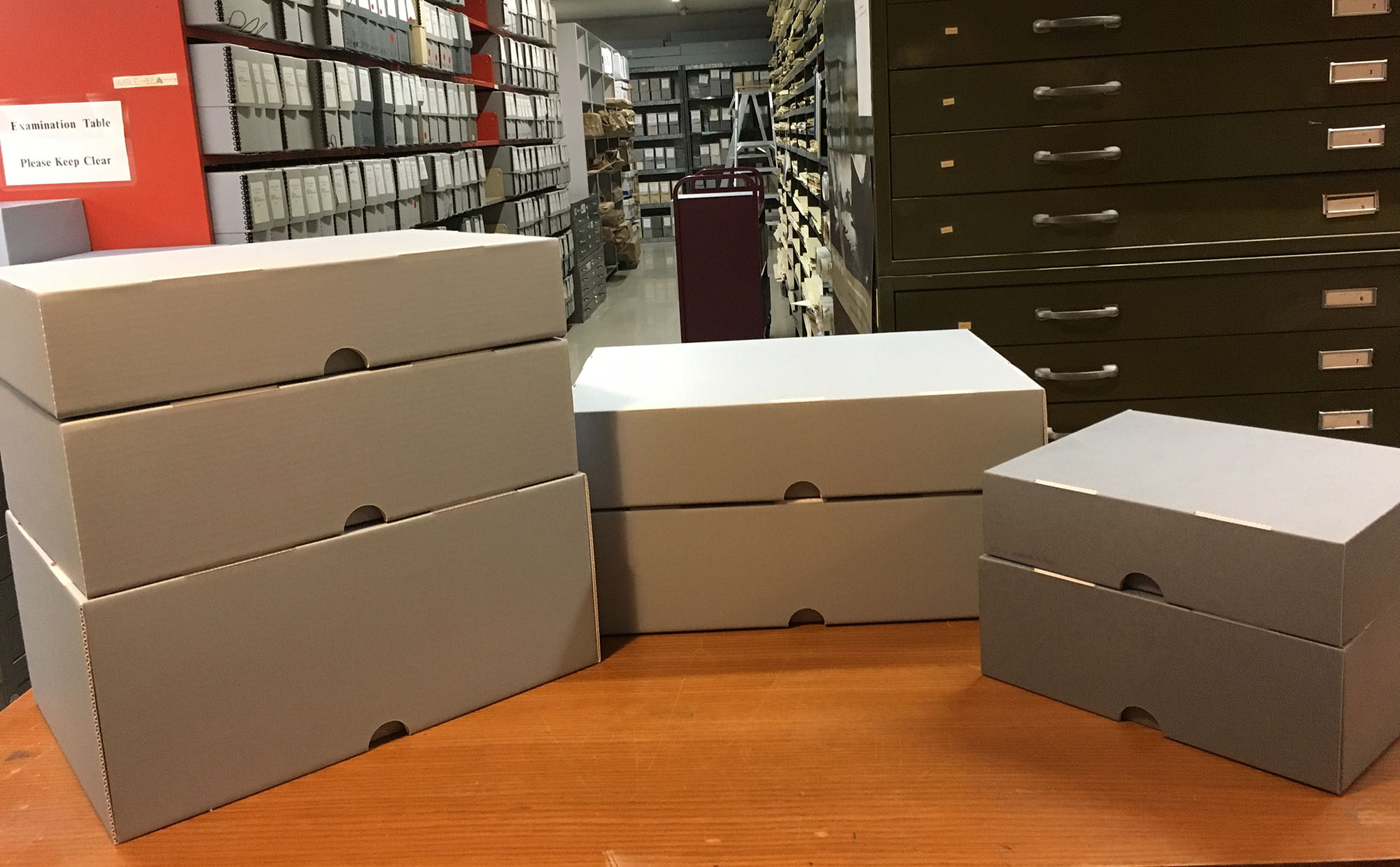 CUSTOM ARCHIVAL STORAGE CONTAINERS
The designs and materials were carefully selected to meet the following criteria:
Made with archival materials that are suitable for long-term storage.
Provide structural strength to bear the weight of the oversized records.
Provide protection for the record during the move.
Allow researchers to more easily access the records.
After thorough testing, we decided to make our custom containers in the style of clamshell and drop-front boxes using an archival quality corrugated board (i.e. acid-free, lignin-free and alkaline-buffered).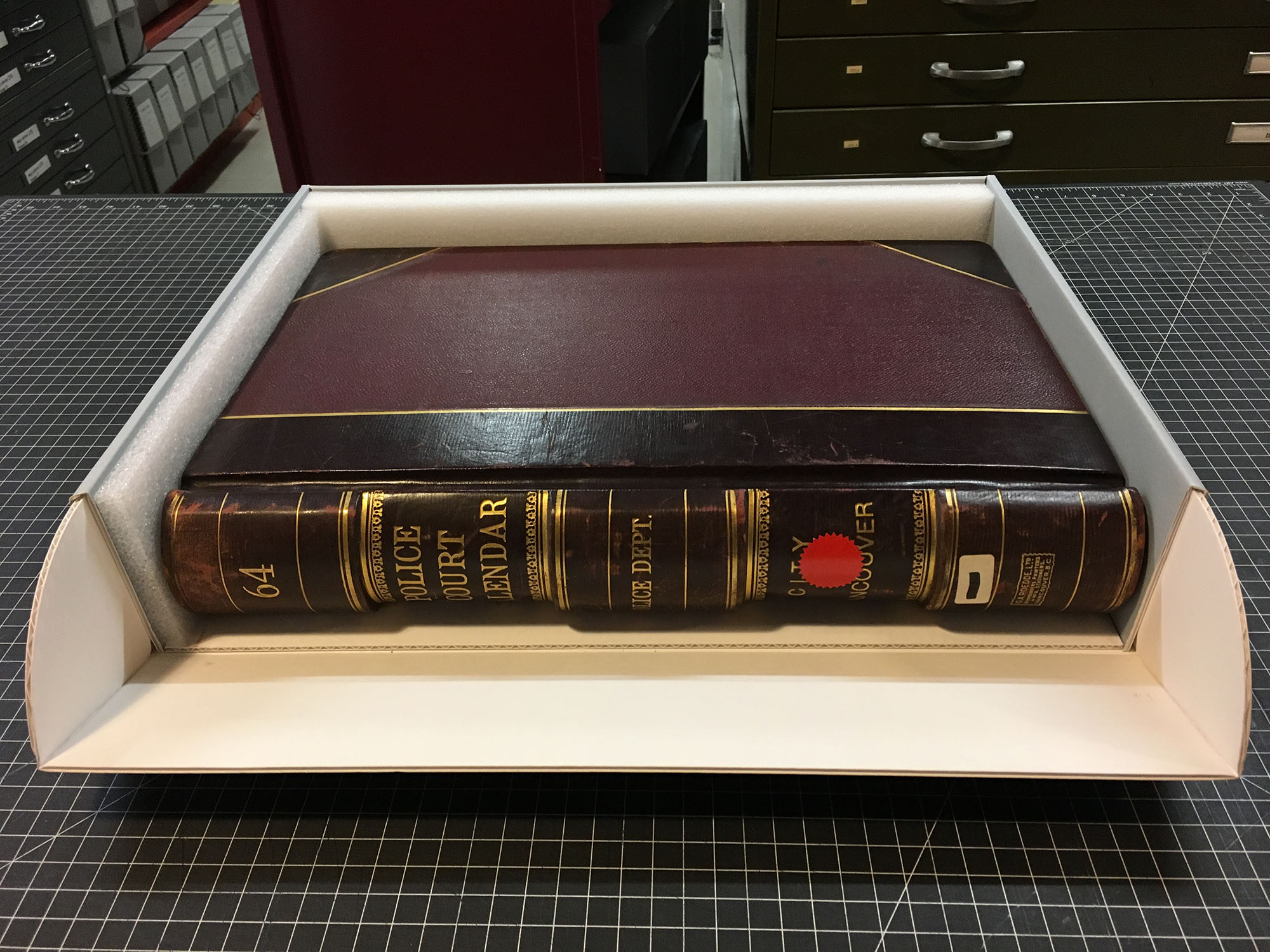 Both styles of boxes have double walls on three sides and a cross-laminated panel on the base (and sometimes on the lid) for additional structural rigidity. For a small number of bound volumes that are extremely heavy and are as large as the size of our work bench, a specialized archival board with a honeycomb inner structure was used instead for added strength.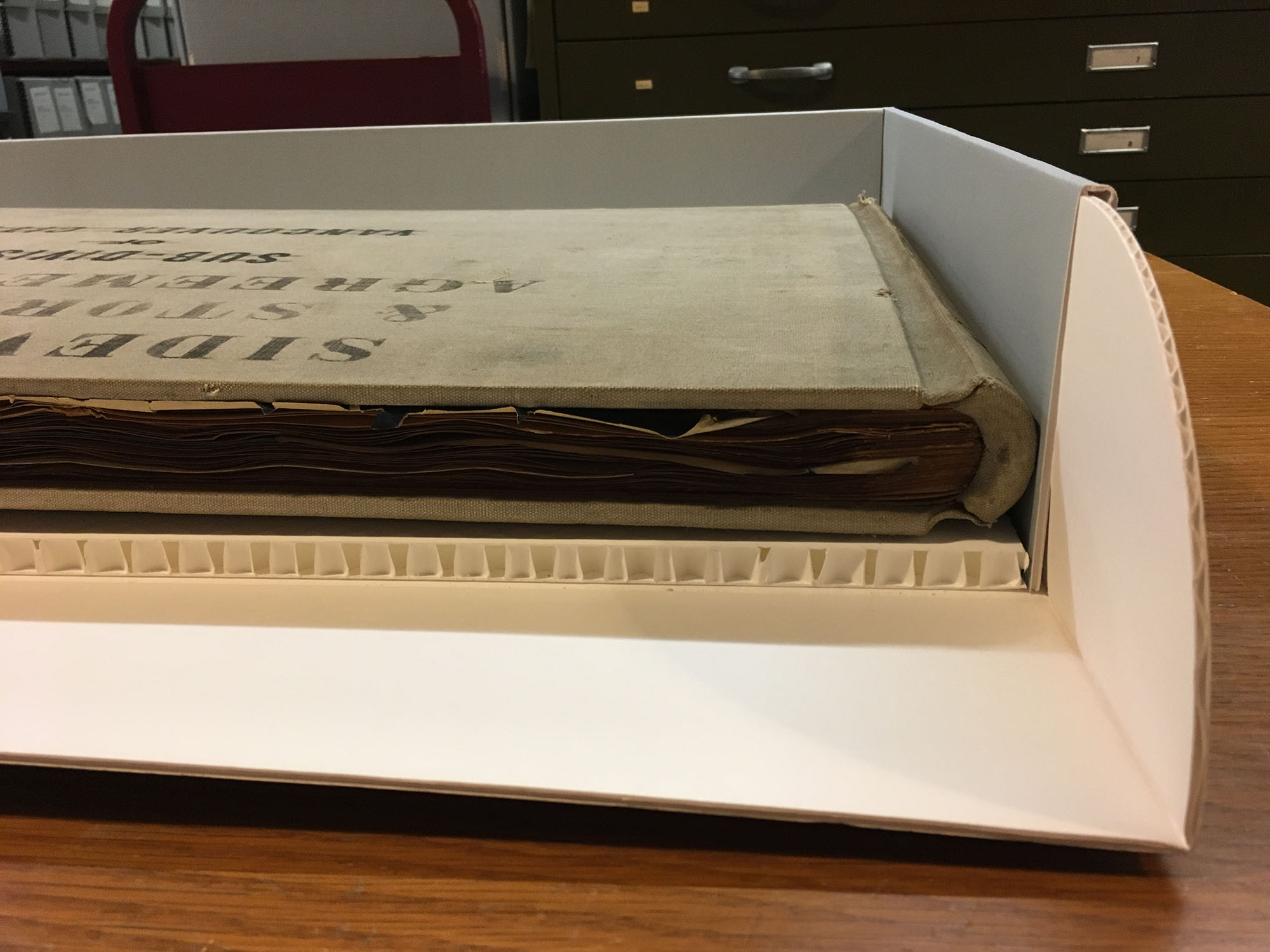 WORKFLOW
We assembled the pre-cut custom boxes and fitted each box with archival quality foam (polyethylene). The foam spacers create a snug fit that prevents the bound volume from sliding around during the move and causing damage. The newly rehoused volume is then properly labelled and reassigned a new location in the vault.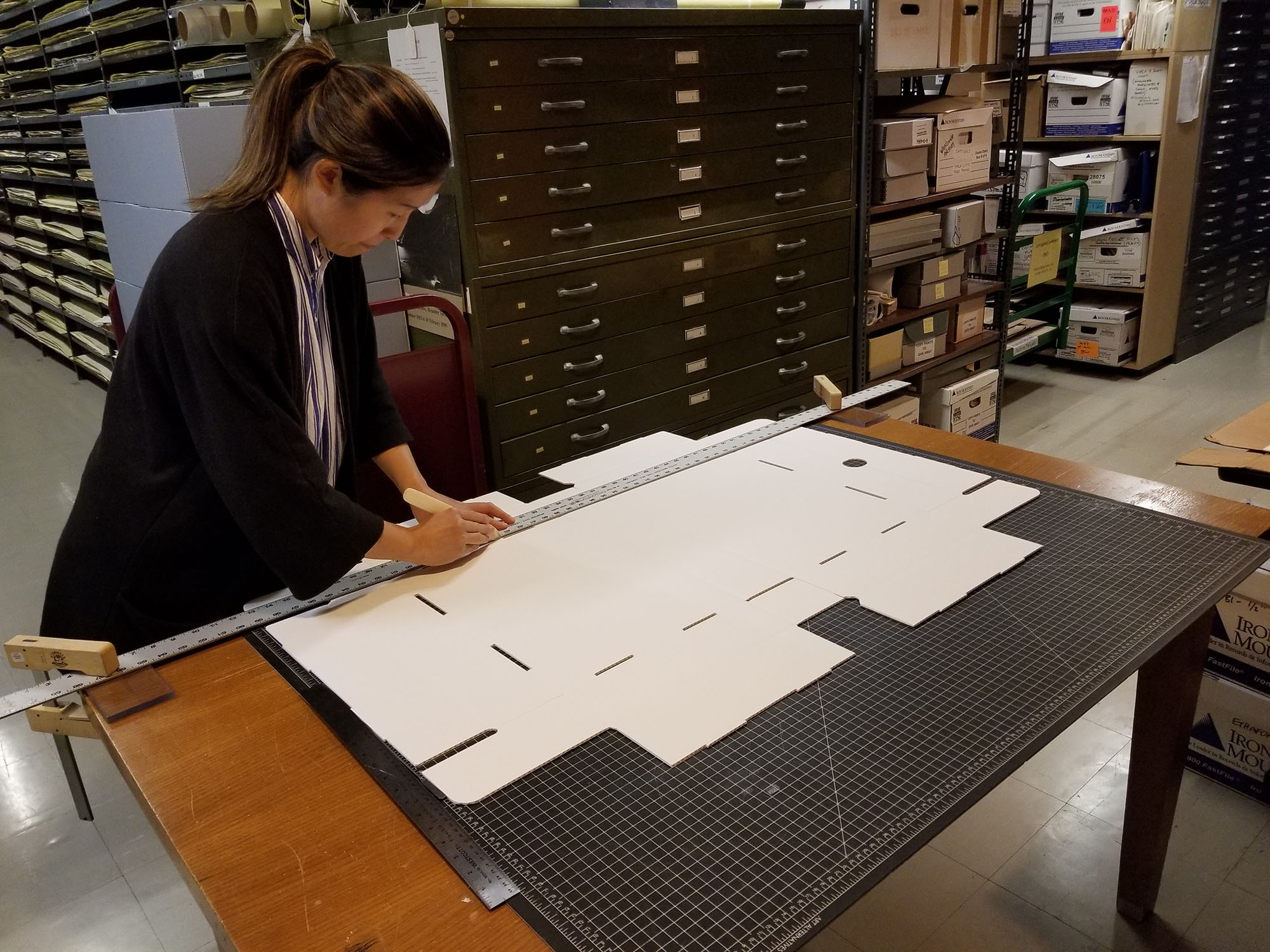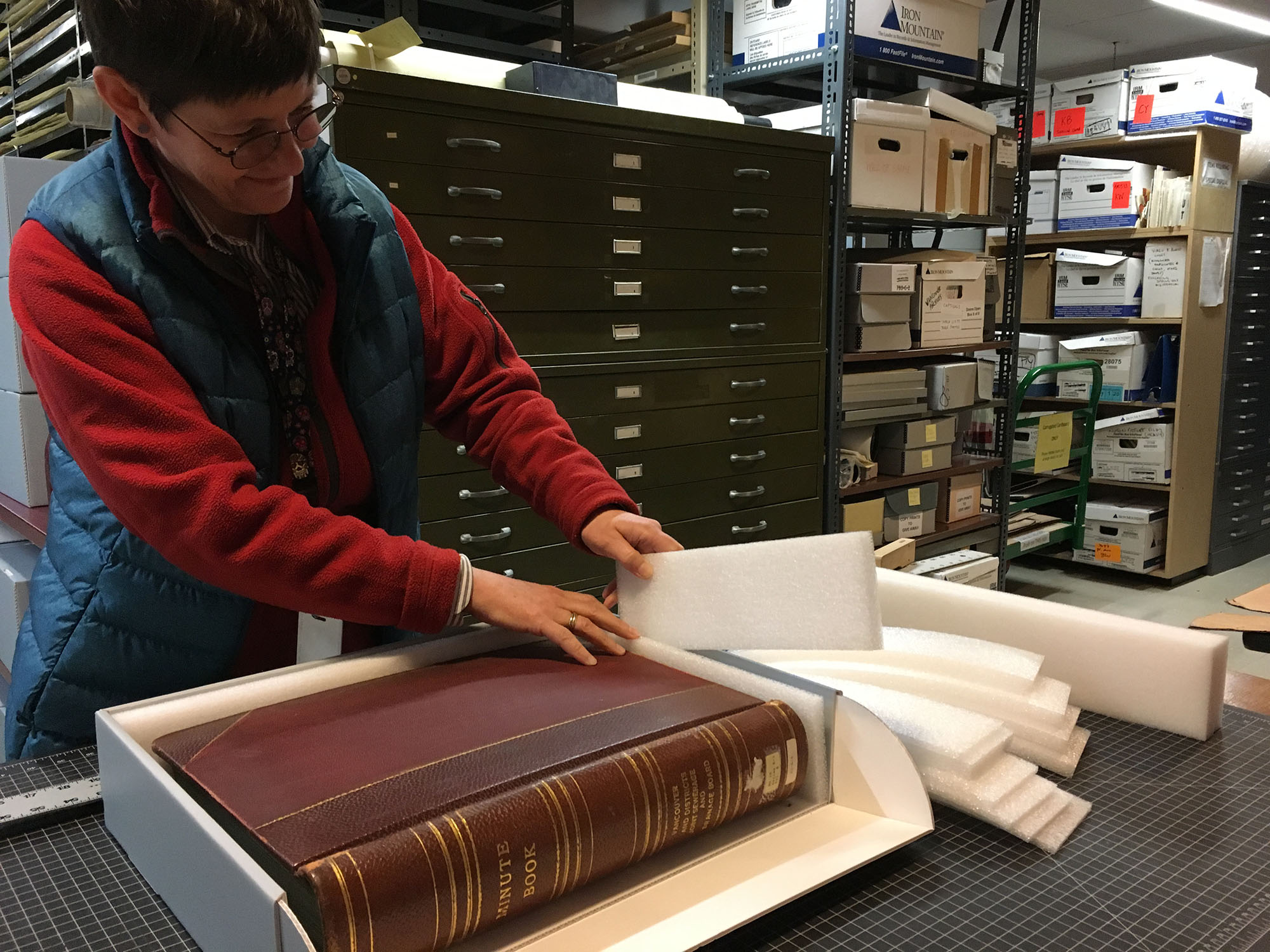 Some oversized volumes can be disbound and filed into folders before housing into a custom container. This makes the textual information more easily accessible to researchers and reduces the risk of damage caused by handling.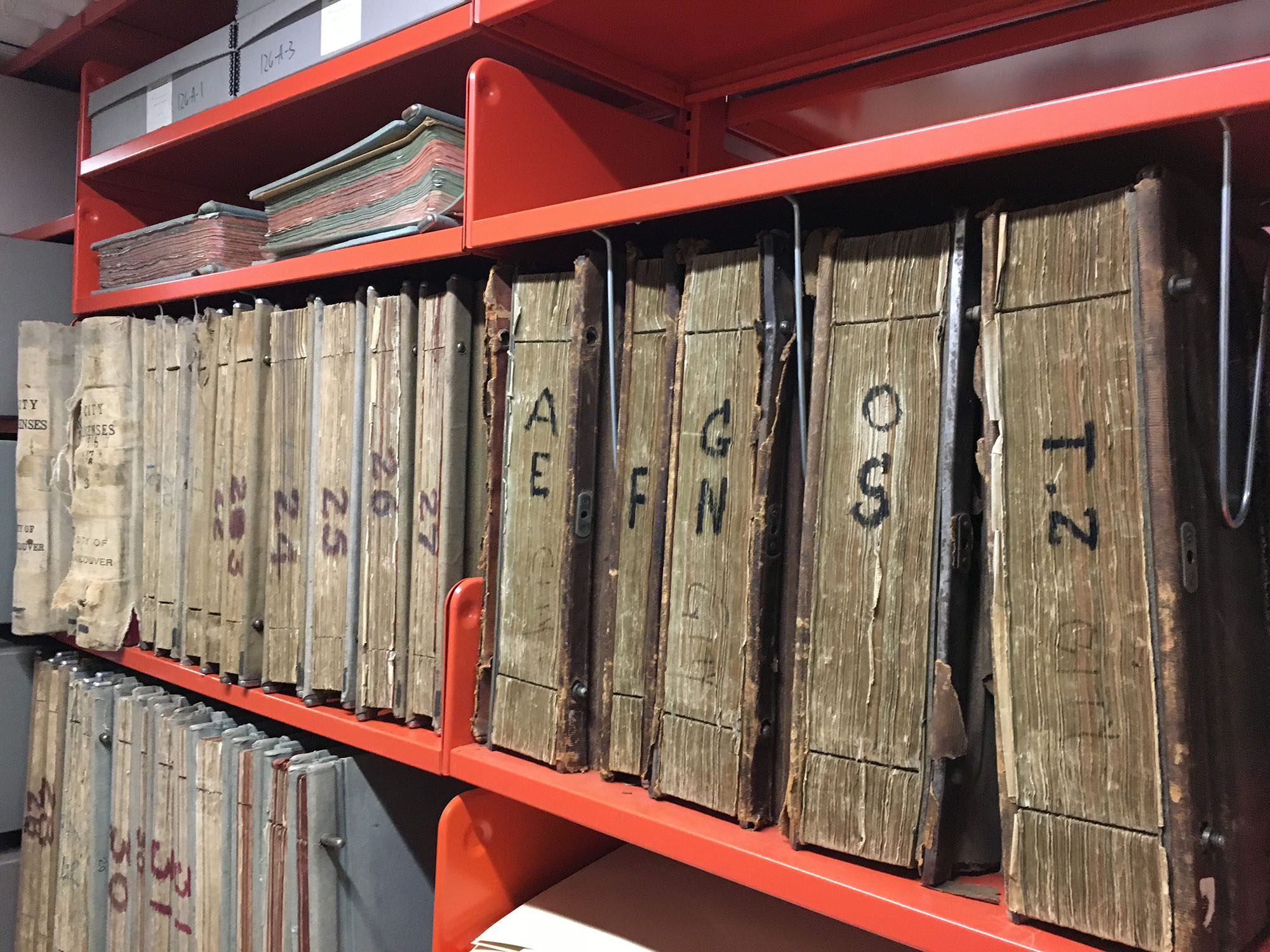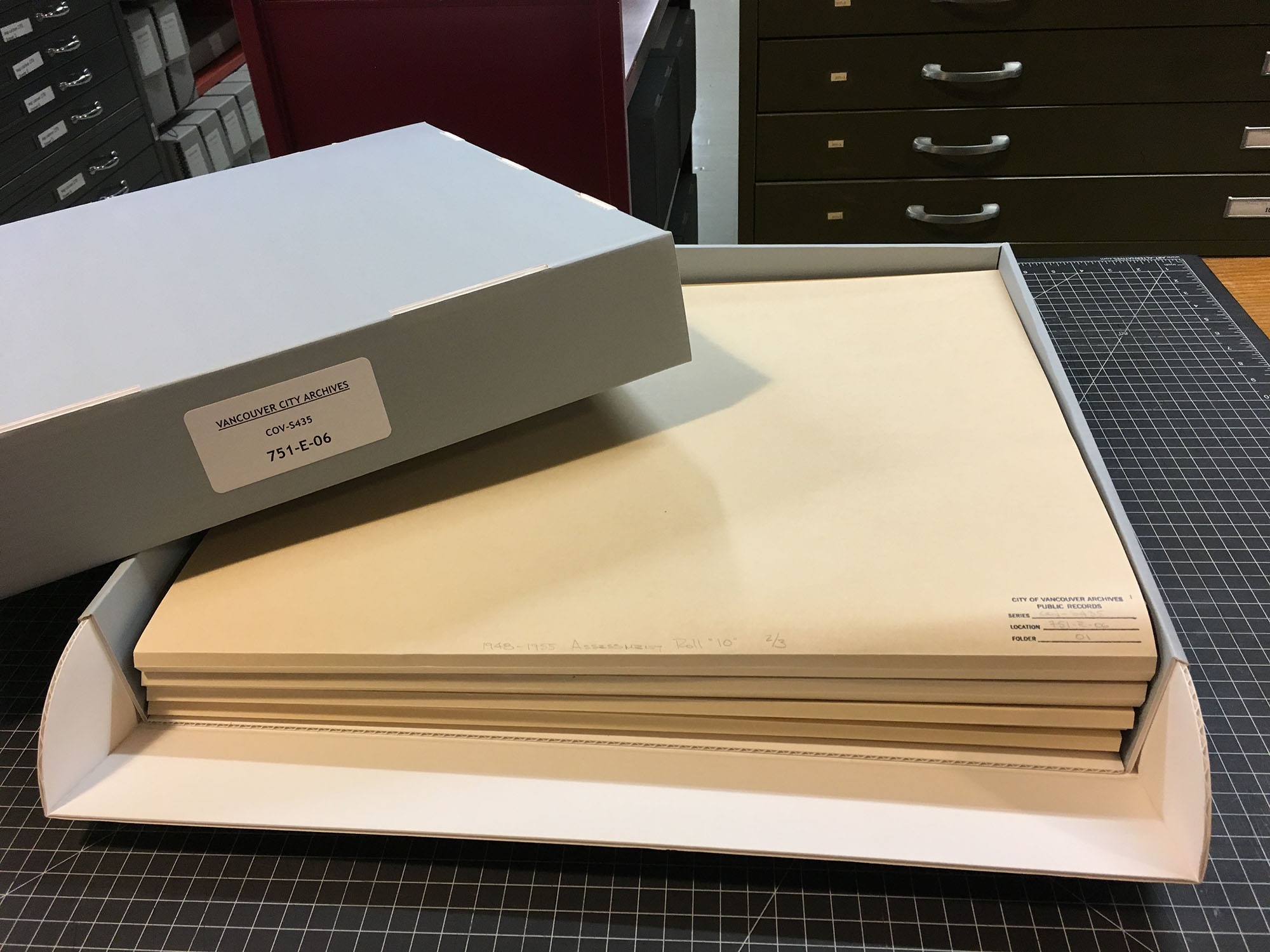 The process of rehousing oversized bound volumes is well underway and we will keep you updated as the conservation team tackles other challenges in the Pre-move project.