Association of Canadian Archivists Conference – Toronto, June 2-4, 2011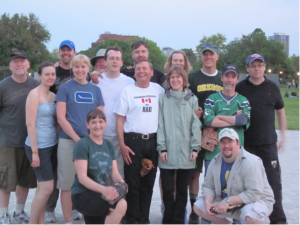 Perhaps overshadowed by the glorious victory of the Western team in the always contentious annual ACA softball game, and the subsequent awarding of the coveted Doughty Cup to team captain and coach Terry Eastwood, was the fact that there was also a conference being held.
The annual ACA Conference is the largest meeting of archivists from across Canada. This year's conference was the 36th, and was attended by over 325 people – a record number of delegates. The City of Vancouver Archives was represented by City Archivist Leslie Mobbs, Digital Archivist Glenn Dingwall, and Project Archivist Cindy McLellan (self-funded).
Both Glenn and Cindy also attended The Archives and Technology Unconference (TAATU) hosted by the University of Toronto iSchool, held on June 1. Archivists interested in technology and archives from across Canada, the USA and as far away as New Zealand gathered for a full day of sharing, networking and brainstorming. Discussions touched on subjects from open data and open source technology to low budget solutions for records management programs that cannot afford electronic records management software.
The official conference program was stimulating and diverse as always. This year's theme was "Back to the Basics??" Sessions covered matters ranging from the theoretical to the practical. The presentations addressed matters such as:
Ways the Canadian archival system can better develop and support archives' capacity to address digital preservation and access issues
The potential for genre theory to act as a more flexible substitute for archival diplomatics
How foreknowledge that their personal papers will go to an archives affects writers' intents when conducting their work
The applicability of archival concepts to non-traditional forms of communications such as blogs, Facebook, and other social media tools
Questions about what the archival concept of original order means within the digital environment
Improving user access to archival holdings by implementing risk-based approaches to the administration of copyright, FOI, and other restrictions that limit access
The CVA's contribution to the programme was a presentation titled "Some Sticky Bits: Appraisal in the Digital Environment" by Glenn Dingwall, which explored how the activity of the archival concept of appraisal might be changing in the digital environment. The presentation drew on recent experiences gained from our acquisition of VANOC's digital records, and looked at how we've incorporated appraisal into our digital records preservation workflow using Archivematica, a comprehensive, free and open-source digital preservation system.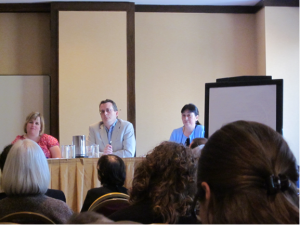 Congratulations are due to the conference organizers for putting together another excellent conference. It is an important opportunity for Canadian archivists to get together and share their experiences with one another, and look for new ways to support one another's work. Without a doubt, archivists from across the country are already looking forward to next year's conference in Whitehorse, Yukon.
Written by: Glenn Dingwall and Cindy McLellan