October 27 is UNESCO's World Day for Audiovisual Heritage, and this year's theme is "Audiovisual heritage: see, hear and learn". To celebrate we'd like to showcase a few of the moving images we've preserved, and introduce our Internet Archive Partner Page for Film.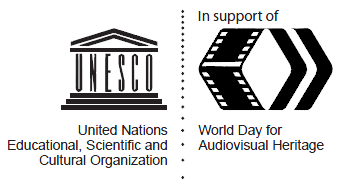 The first World Day for Audiovisual Heritage was in 2007, and was conceived as a way to increase public awareness of the fragility of sound and moving image heritage materials and the urgent need for their preservation. We've preserved hundreds of moving images in the last few years and have made as many as possible available on the Web.
We've recently added another way to access films we've digitized: our new Internet Archive Film Partner Page.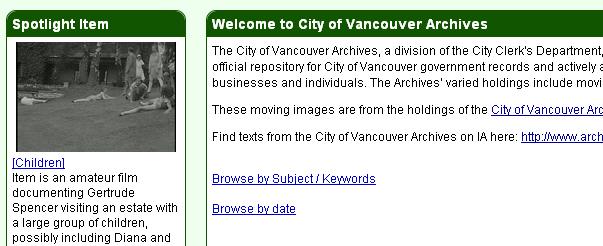 Not only will it give you a place to view and comment on our films, you can download them in a variety of file formats. We've uploaded every film from our holdings that we can legally put on a site that adheres to U.S. copyright laws, 140 films so far. There are more coming soon thanks to recent film and video donations!
The Internet Archive site has a great navigation tool. You can view thumbnails of the moving image taken one minute apart, to allow you to scan the content quickly.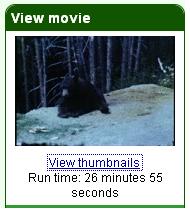 . . . will get you to this.
Then, clicking one of the thumbnails will take you directly to that part of the video.
Alaskan Scenery and the Chinese Exhibit at Vancouver's Golden Jubilee, 1936, is of interest for the scenes of Chinese celebrations of Vancouver's Golden Jubilee, in colour. The film shows people in the street watching a theatrical stage show, a trapeze artist, and the Chinese Arch erected at Pender Street near Carrall Street. Thanks to Neil Whaley for his donation.
In The Rodeo, you can "see, hear and learn" about the different events—bareback riding, saddle bronc riding, clowns—held at the 1944 rodeo in Vancouver's Callister Park. Donated by Jolene Cumming, the "Ride 'em Henry" section features her grandfather, Judge Henry Castillou, also known as the Cowboy Judge.
Naturally, we have moving images created by the City. Opening of 2099 Beach shows the 1962 opening of the Park Board administration building as well as logrolling in a pool and the unveiling of the statue of Lord Stanley. Using ViewThumbnails, you can skip to the baby polar bear near the end.
We'll continue to make more video available at our Internet Archive page. Enjoy the show!