It is that time of year when various organizations promote cycling to work and school, and this year we're celebrating Go by Bike Week from May 31 to June 6. Whether you are a cycling pro or a casual rider, we hope this selection of the bicycle-related photographs from our holdings will inspire your next spin around the city. Just don't forget your helmet!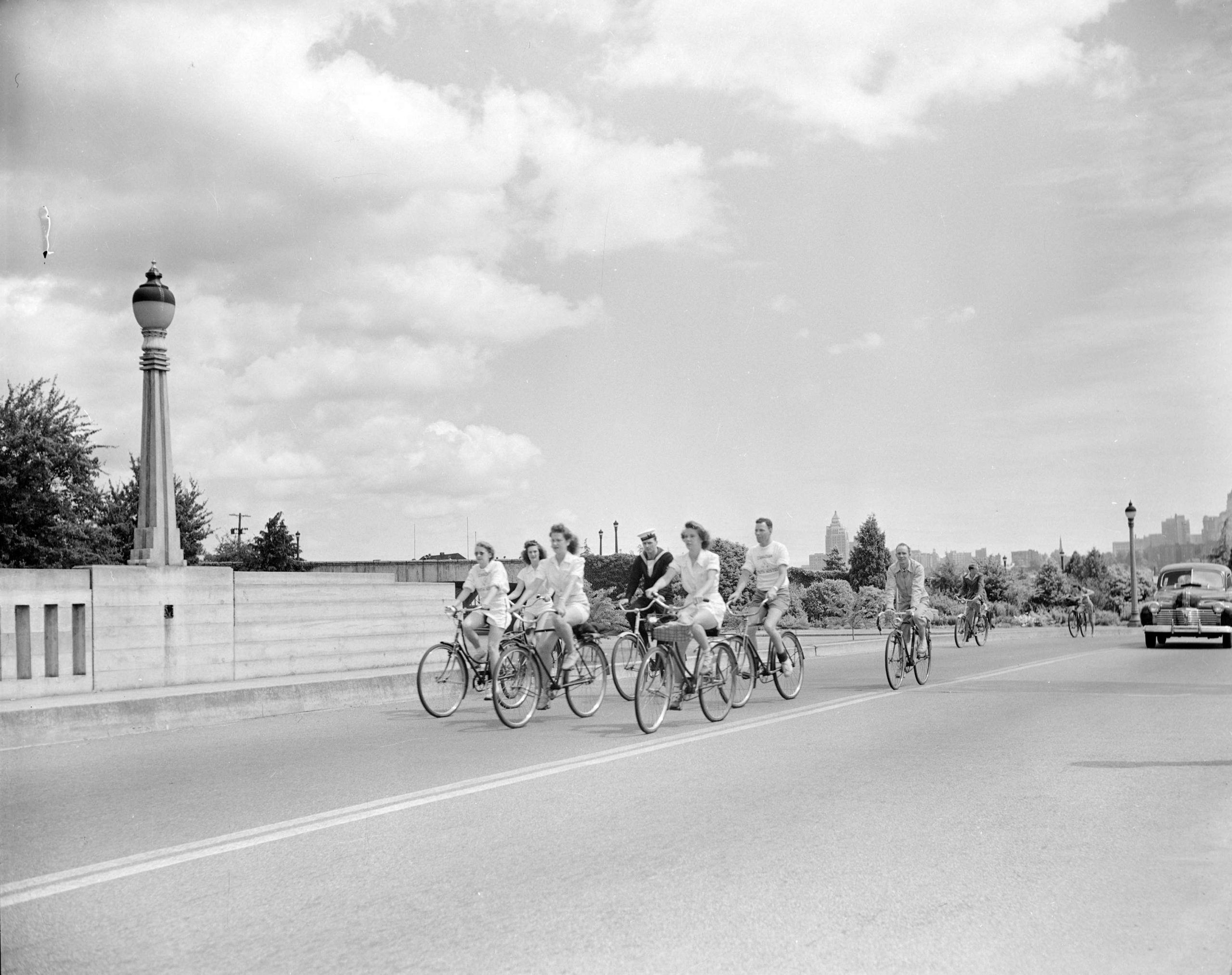 Some of the early bicycles to hit Vancouver's streets were the classic penny-farthings, or ordinaries. By 1902 when the photograph below was taken, pneumatic, also known as safety bicycles, were the norm. The ordinaries, however, were occasionally brought out for some "old-fashioned" fun, such as the case with this bicycle race at Brockton Point.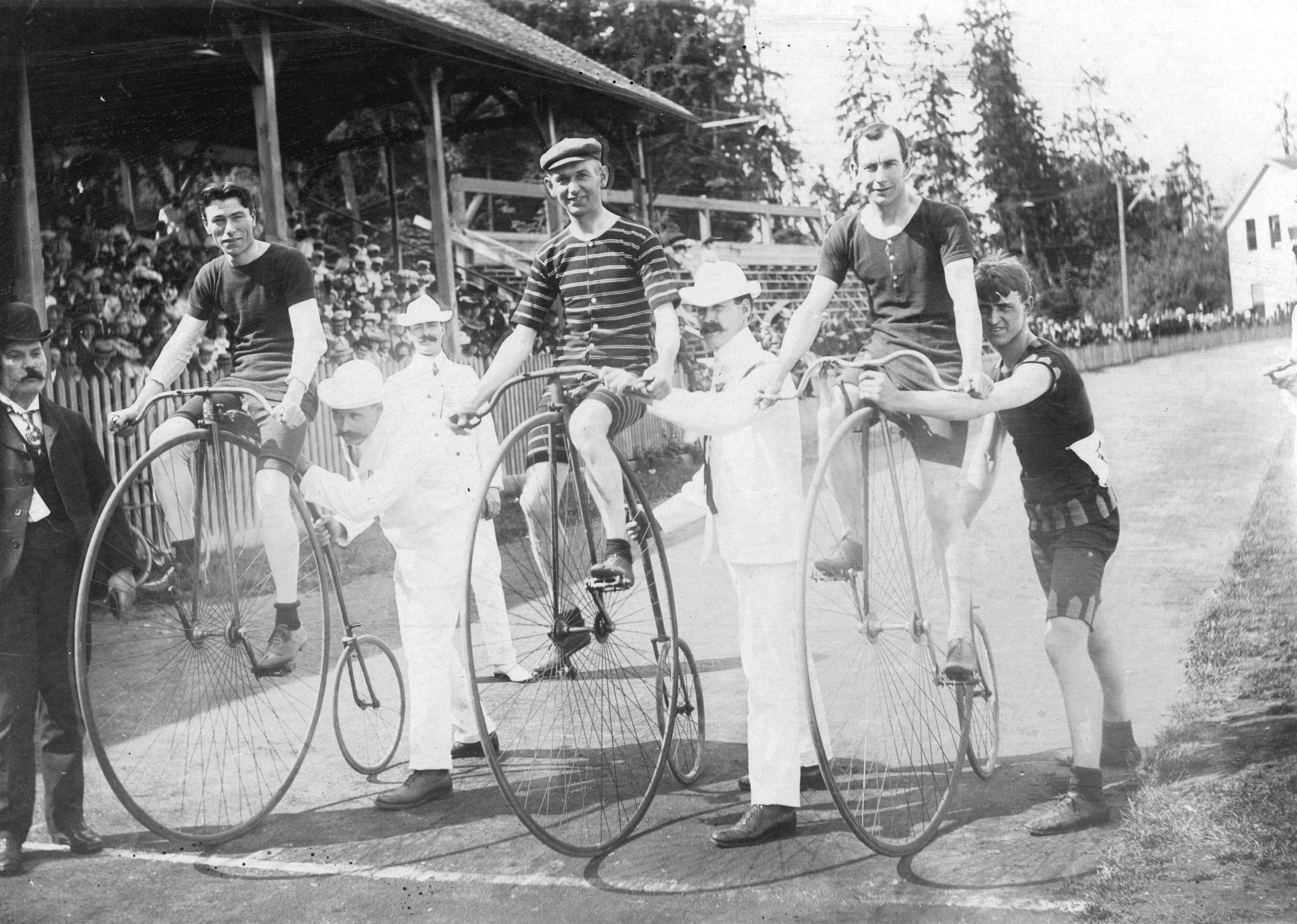 The below 1890s photograph taken in Stanley Park pays tribute to the park's popularity as a place to ride. A typescript essay from 1898 in our holdings describes several bicycle routes and runs. One listed is "To Stanley Park, English Bay & Bathing Beach via Georgia Street Pender Street & Beach Avenue." Others rides included were to Steveston and New Westminster.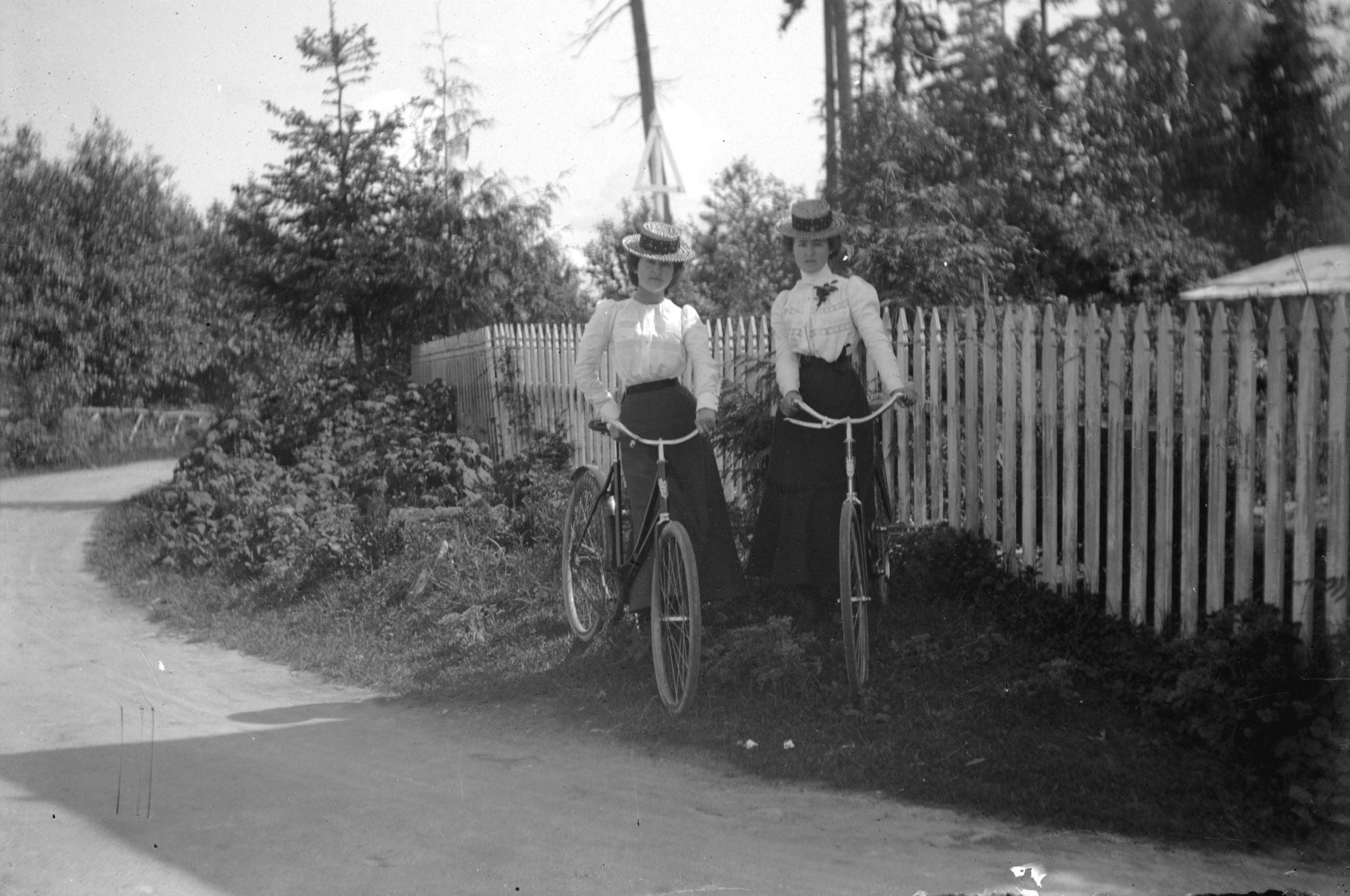 The first pneumatic bicycle to arrive in British Columbia was brought by Charles James Piper in 1891. He was a bicycle enthusiast who began cycling on a tricycle when he lived in Plymouth, England. He switched his three-wheeled companion for a two-wheeled pneumatic model shortly after their introduction to the cycling world. He moved to the West Coast in 1891, followed shortly by his father who brought the pneumatic bicycle with him. He never gave up his love of bicycles, and spent each year peddling thousands of miles even when he was in his later years.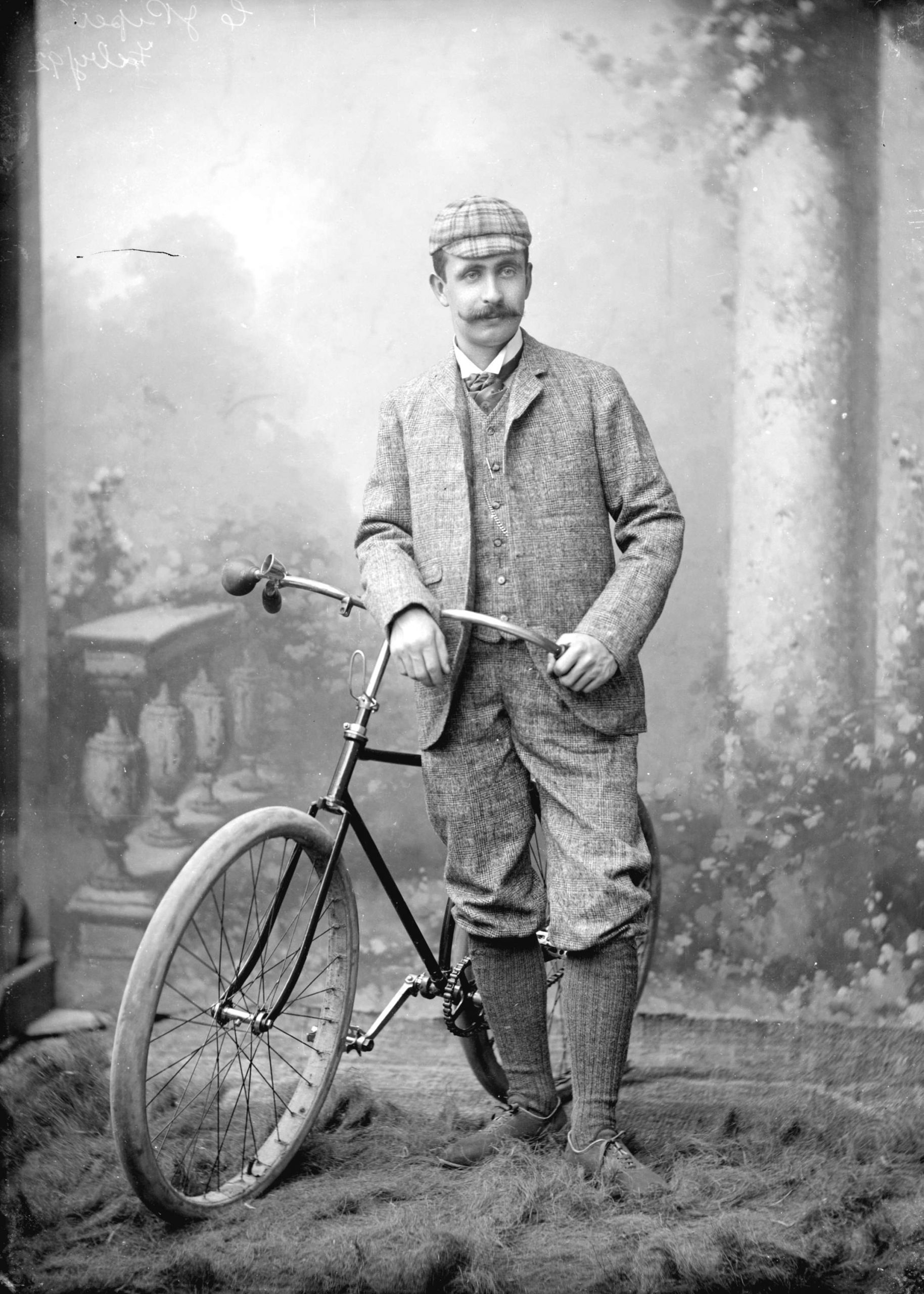 At first glance, the bicycle below seems rather ordinary. However, look a little closer, and it is apparent that there is no chain. It wasn't designed to have one, and instead used a shaft with bevel gears to propel the rider forward. This type of design is known as a shaft-driven bicycle. The photograph, taken between 1903 and 1904, is attributed to Charles James Piper.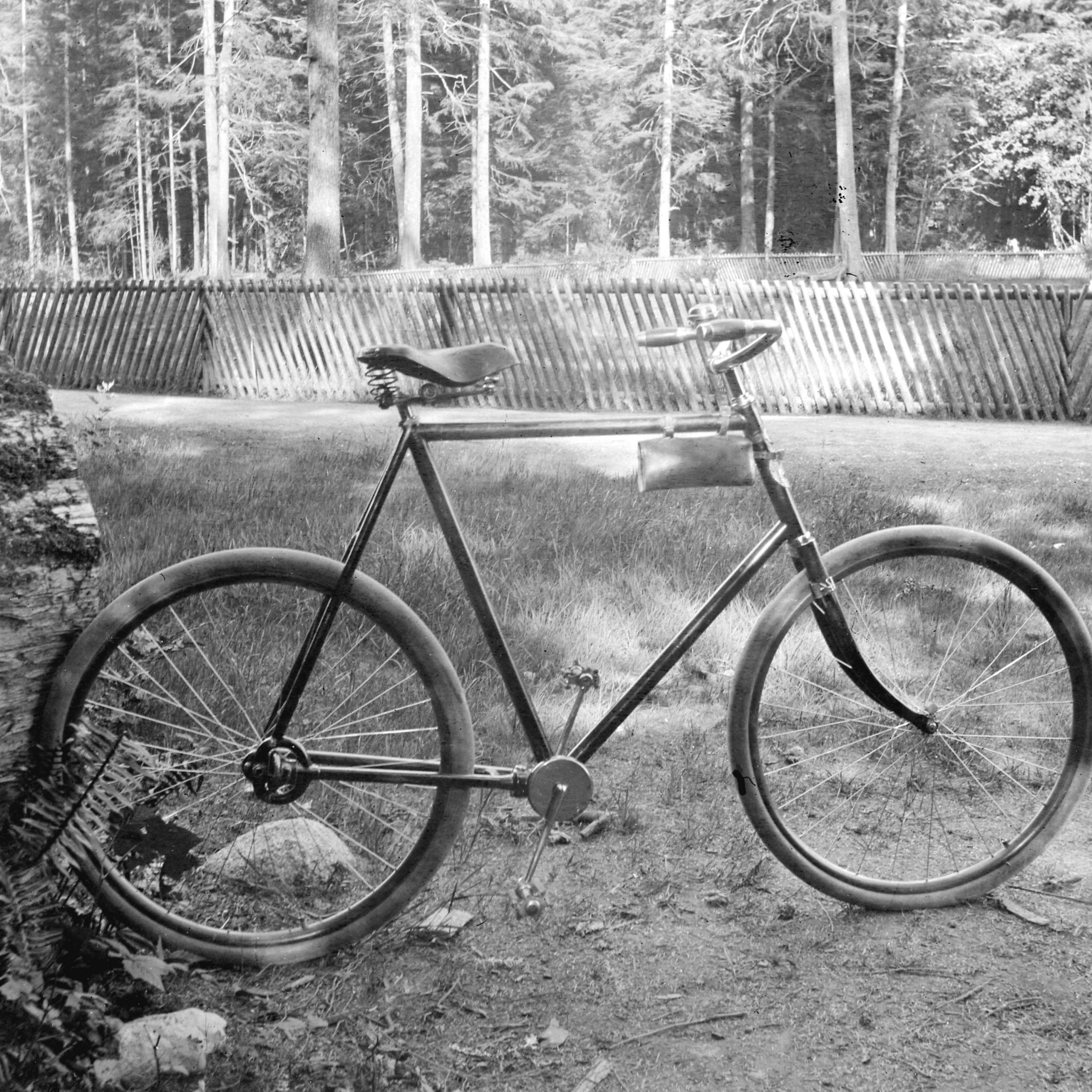 Of course, bicycles don't just facilitate leisure, but can be of great assistance in getting jobs done. This 1940s photograph shows a boy with his peddle workhorse loaded up with sacks of Province newspapers ready for his delivery route.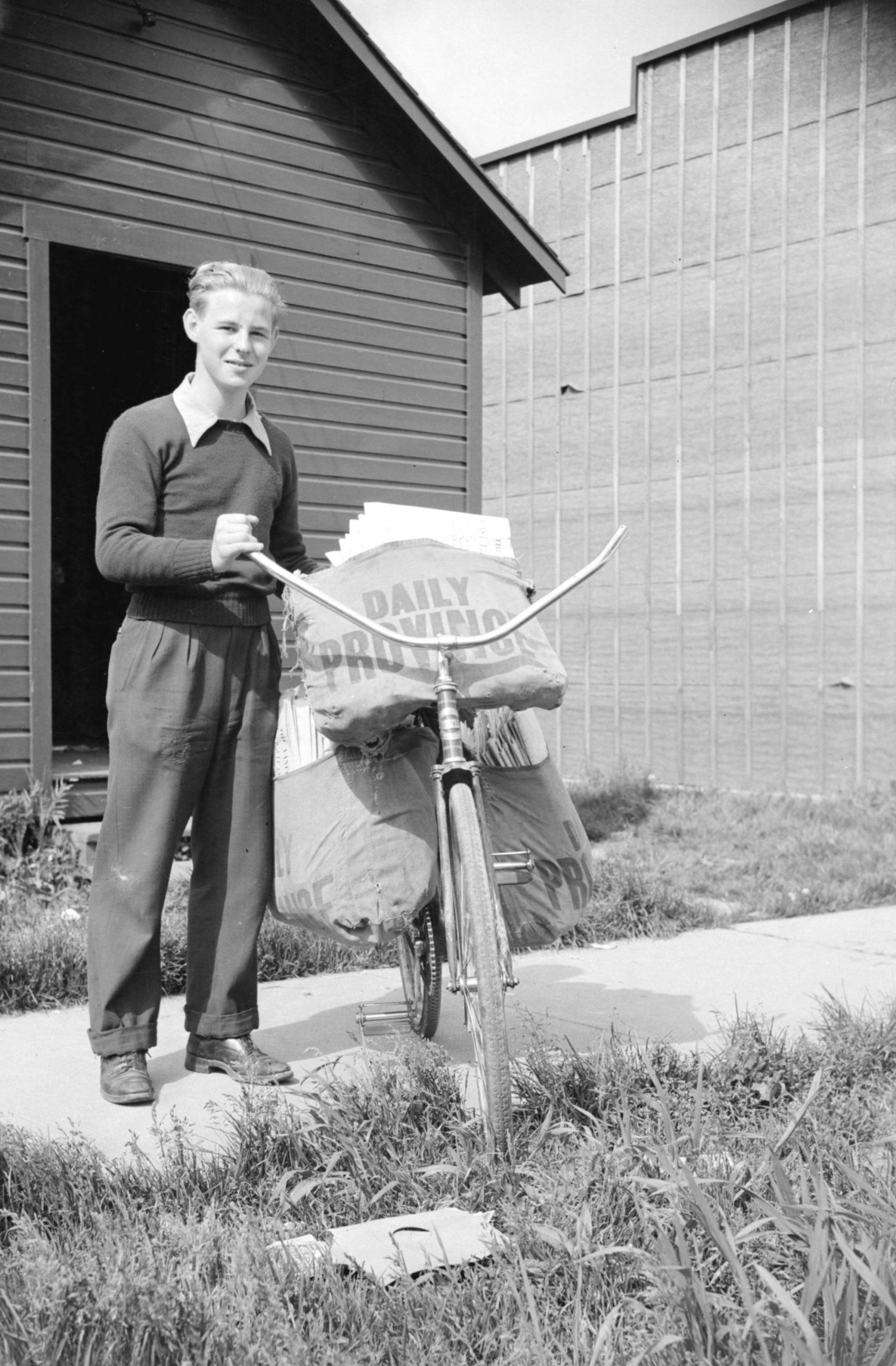 And when it comes to selling things, who could resist buying an ice cream treat from someone cycling this Dickie Dee Ice Cream cart? These hardworking lads are ready for business at the Habitat Forum at Jericho in 1976.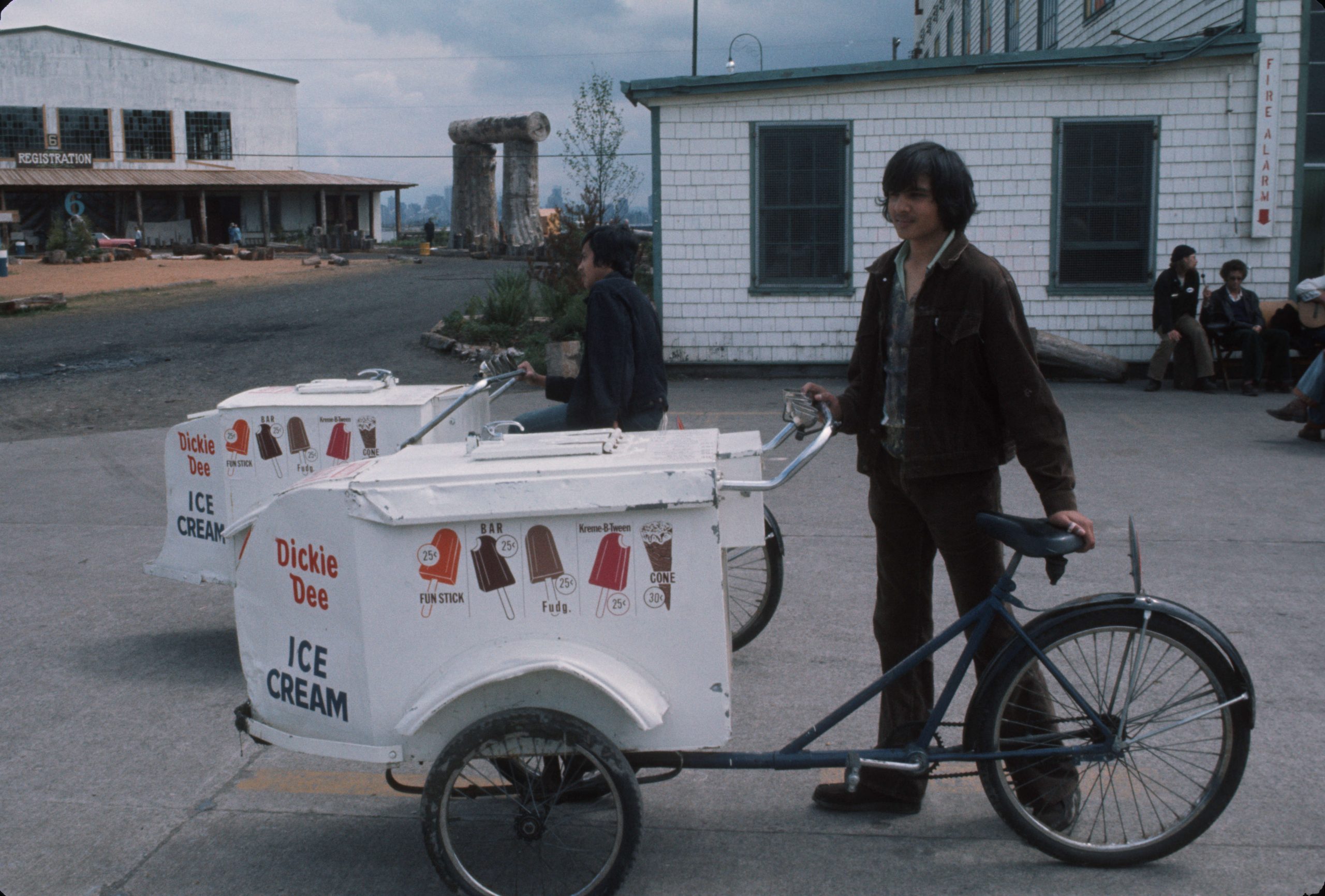 The military also found the bicycle useful in its work. As with any type of machine there is always maintenance involved, though, as this 1898 photograph shows! A soldier from the 2nd Battalion, 5th Regiment Canadian Garrison Artillery, is focused on repairing his bicycle at this Beacon Hill camp.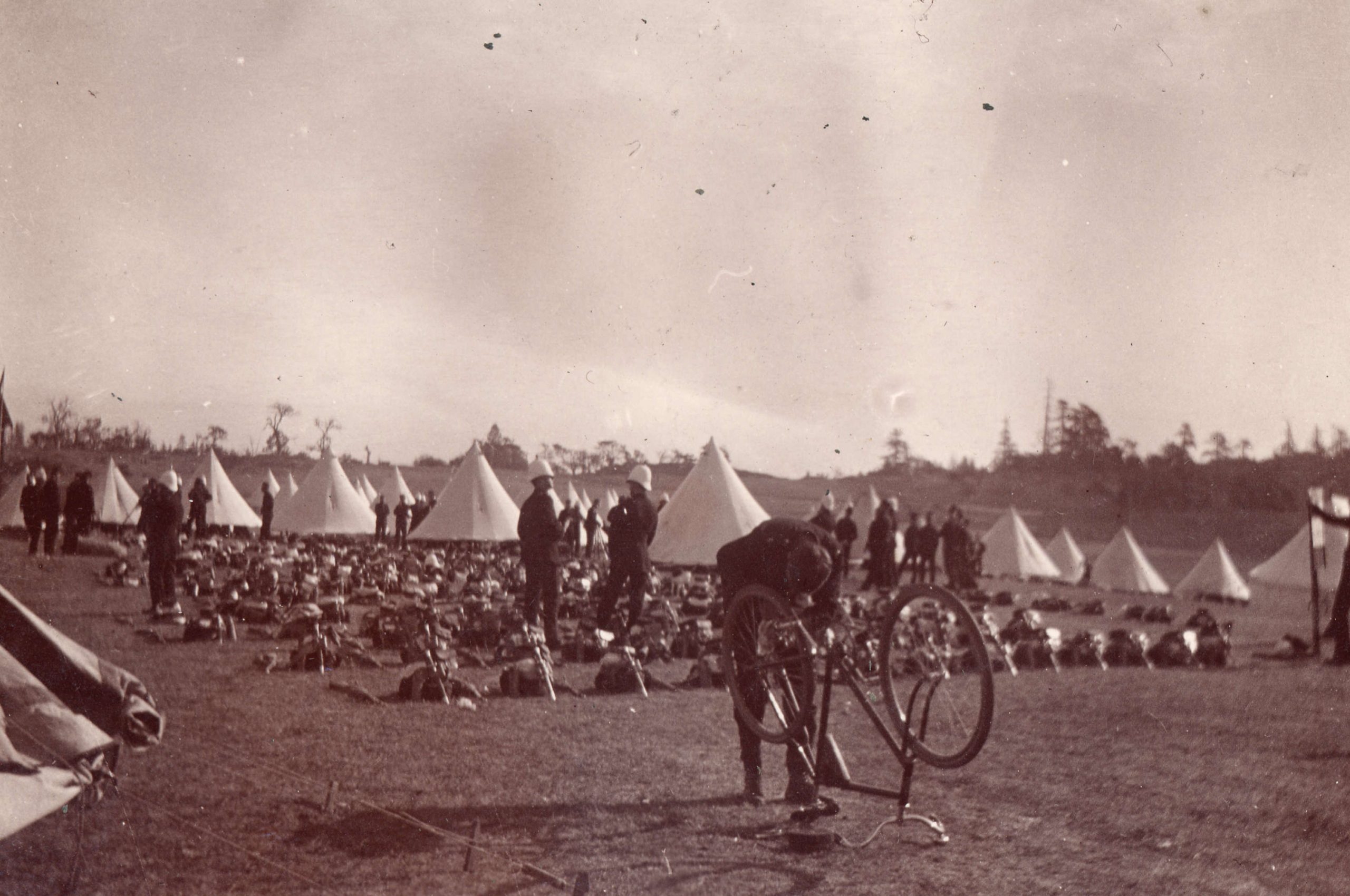 Part of the thrill of riding a bicycle is the ability to compete against others in races. Winnie Eng must have experienced that. The note on the back of this April 28, 1940 photograph reads, "In front of our house after the bicycle race. She came in second. See the silver cup in her hand. International Settlement House."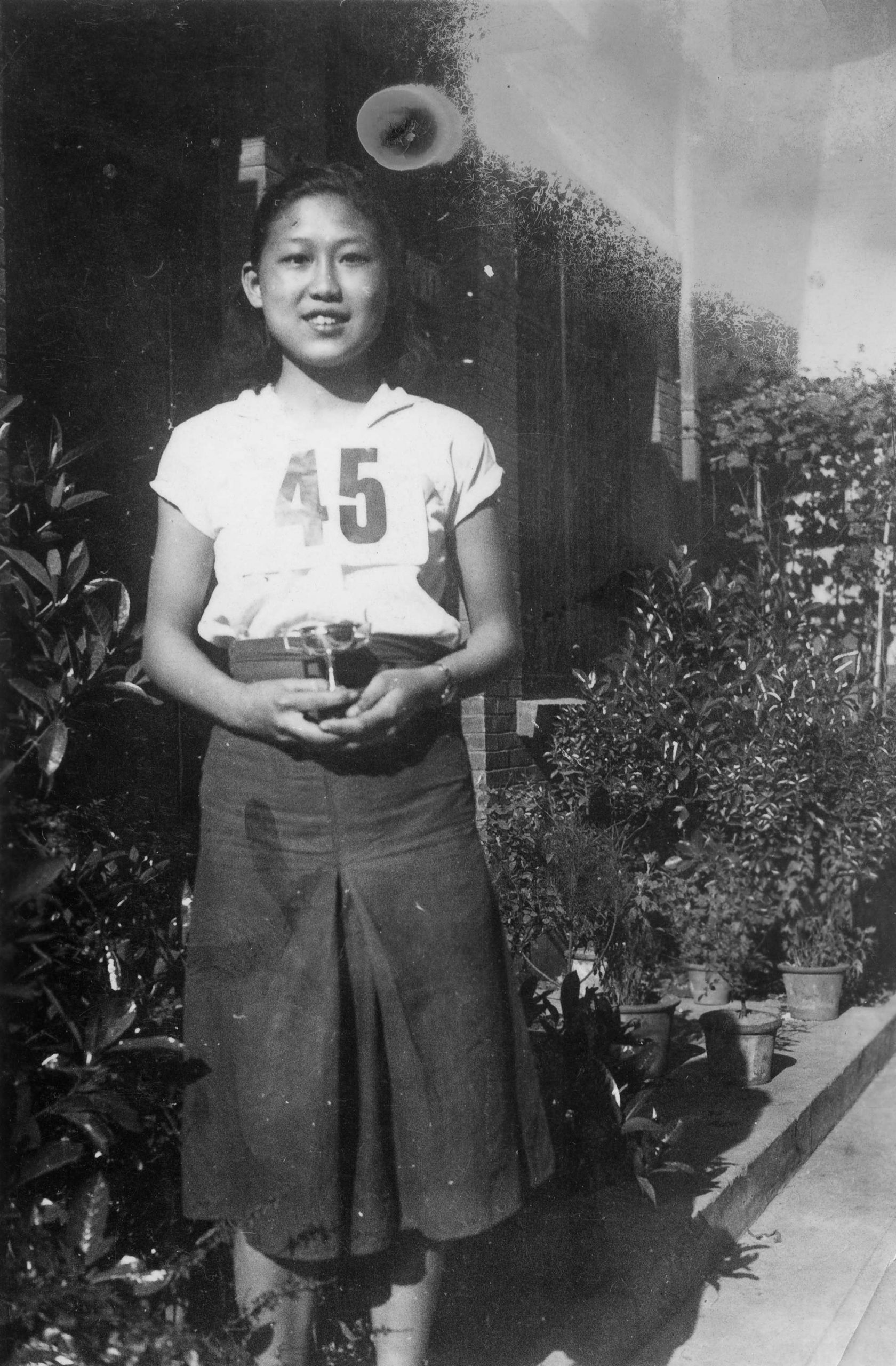 There is also a form of competition that bicycles lend themselves to that doesn't include speed, namely the bicycle decorating competition usually connected with festivities and parades. This July 1, 1943, photograph taken at the Richmond Victory Celebration captures Patricia Vaselenak, dressed in a nurse's uniform astride her bicycle with a large paper milk can perched on her panier rack, proclaiming, "Milk for Britain". She won first prize for her creative décor.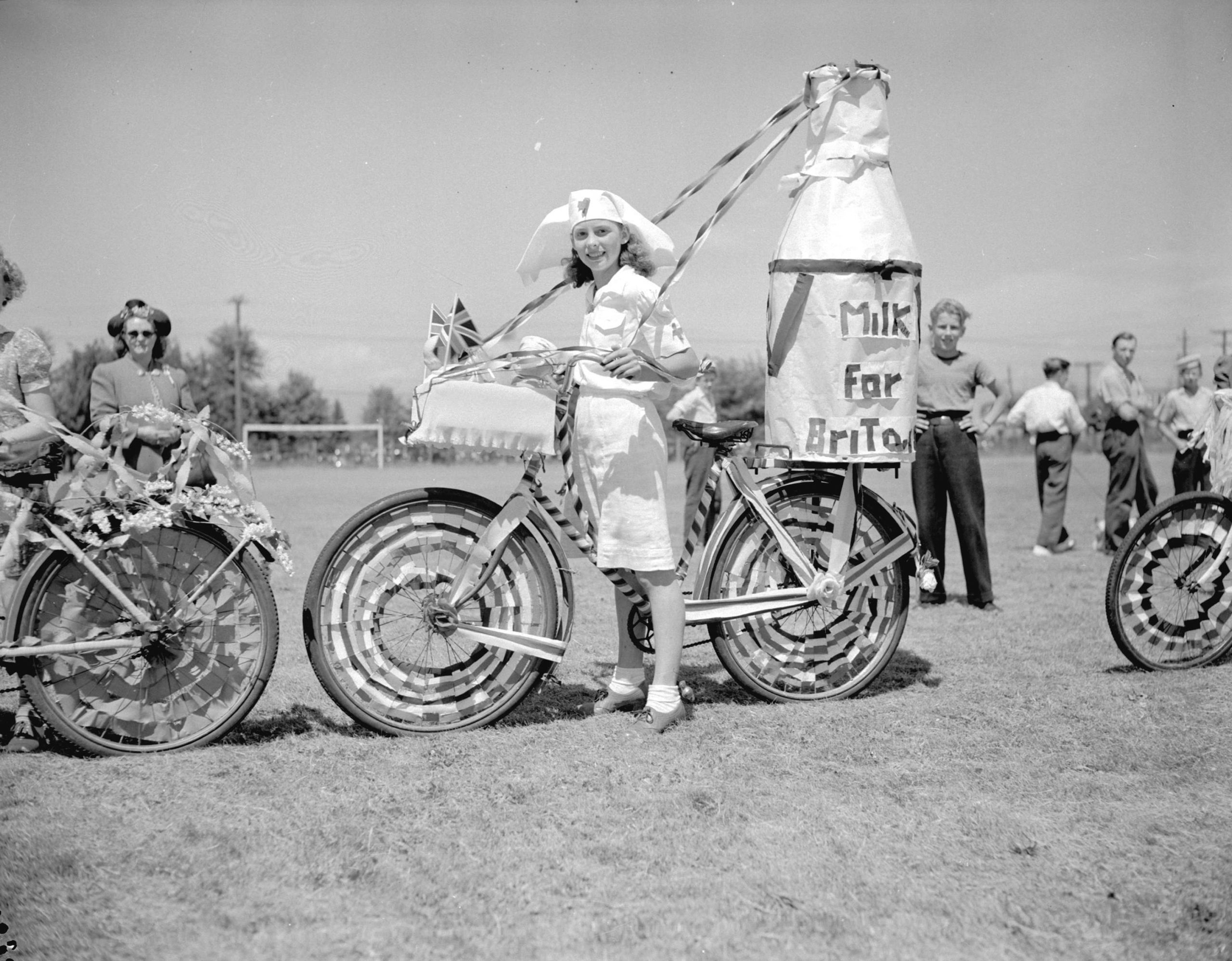 For good measure, here are a more few scenes of people and their bicycles.
Below is a woman cycling south on Granville Street at about Dunsmuir Street, ca. 1900. She is cycling on the correct side of the road for the date, as which side of the road people drove on didn't change to the right-hand side until January 1, 1922.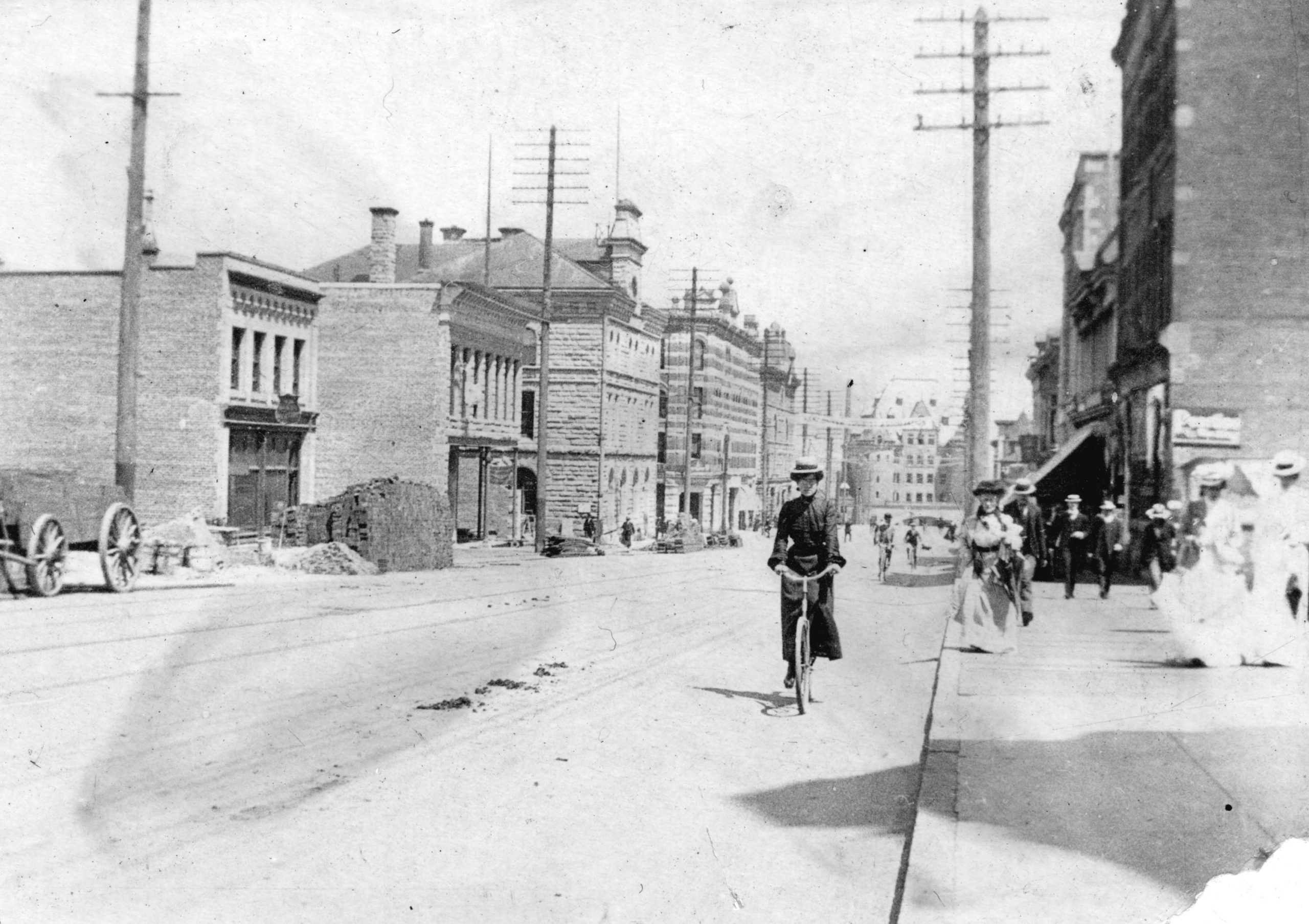 Though we're not sure who Mr. H. McCulloch was, it appears that on this day in about 1905, he was out for a nice cycle on East Hastings with a four-legged chum.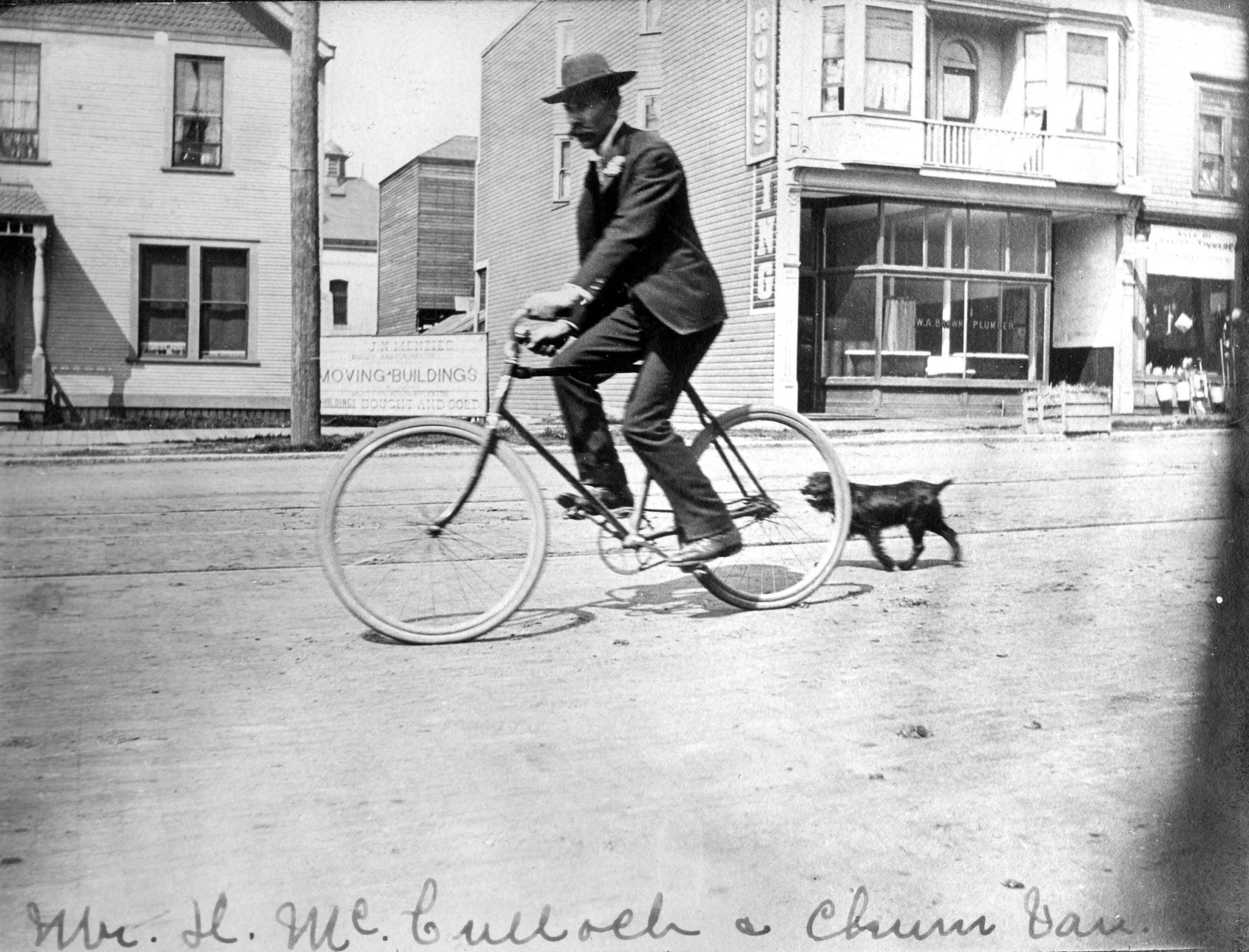 This photograph of two girls gazing over Burrard Inlet with the Lions Gate Bridge in the background was taken March 26, 1970, for the Vancouver Express. It ran with the caption, "Happiness is a sunny afternoon and a tandem bike to peddle around Stanley Park for . . . cyclists Patricia Beckett and Nancy Wherley . . . . Park is a haven for pleasure riders and racing enthusiasts alike."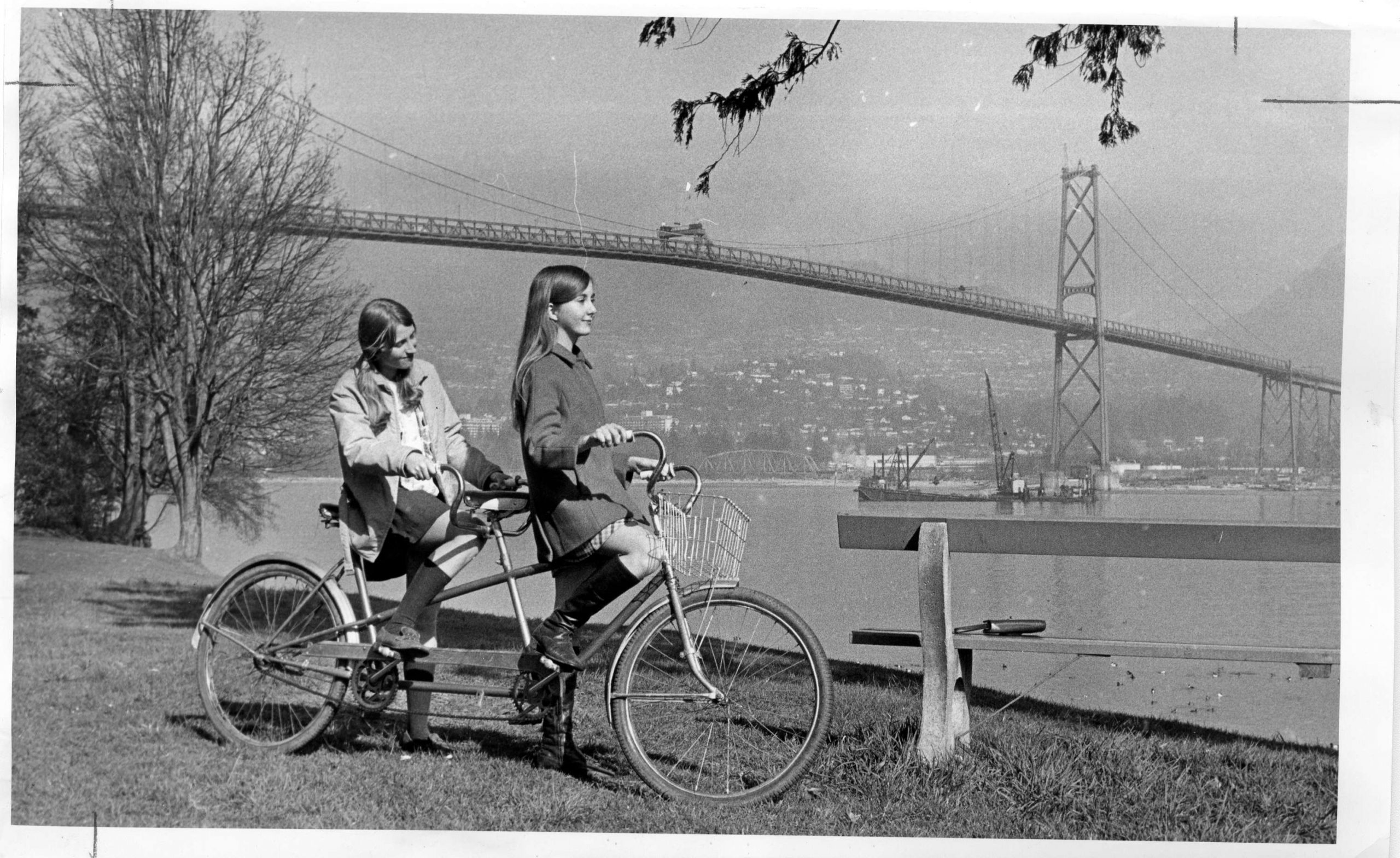 The last photograph we leave you with is this stunning shot taken around 1939 by James Crookall, which captures a man paused, looking at the Empress of Canada at dock.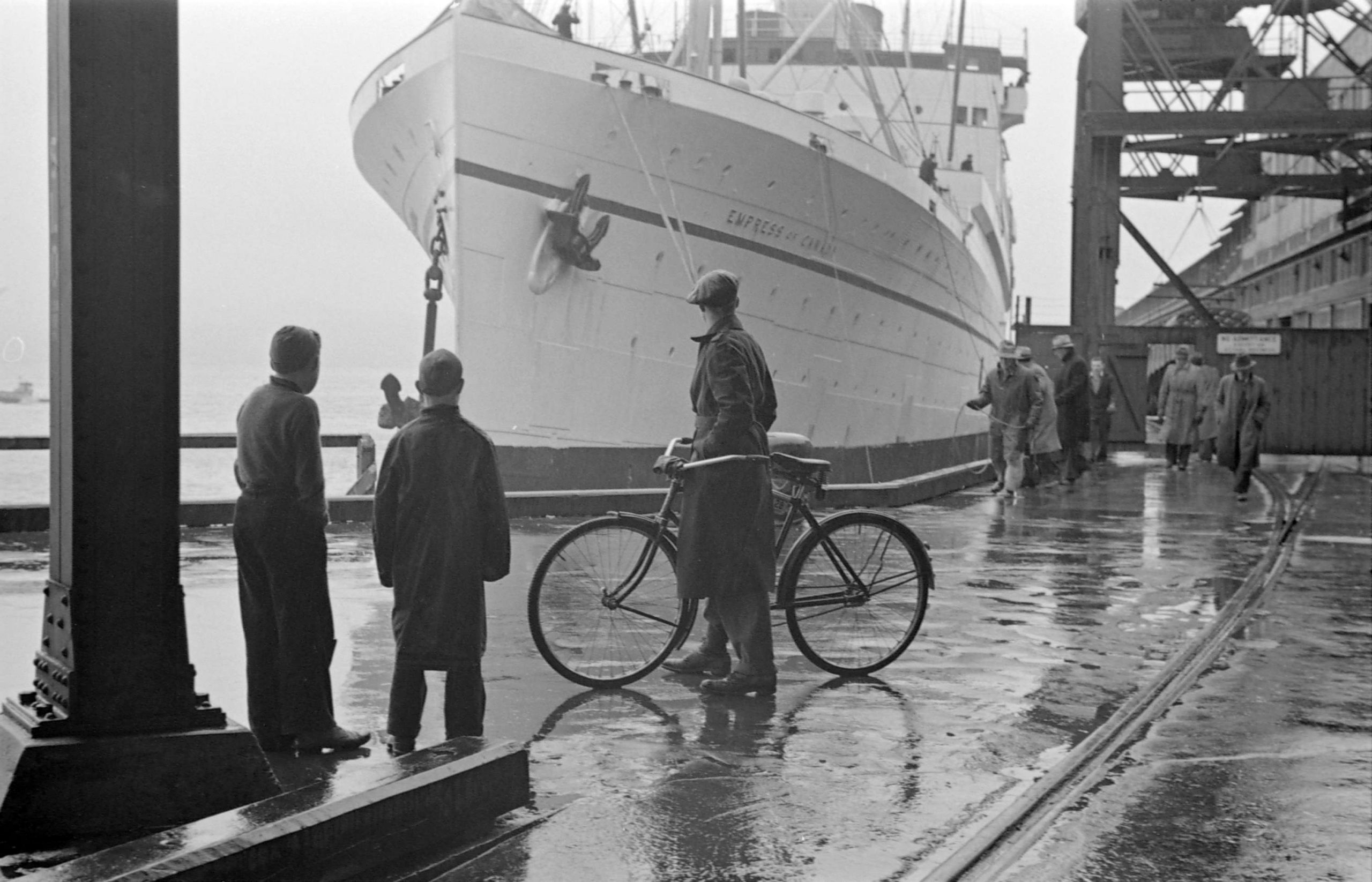 If you are interested in a few more tidbits about Vancouver and cycling, see this post called "It used to be illegal to learn to ride a bike on paved Vancouver streets" on Vancouver Is Awesome.