After a summer away curating a virtual exhibit, one of our volunteers is back to focus on the physical.
Jessica Flank first contacted us about volunteering while in her first year of study as a Dual MAS/MLIS candidate at UBC's School of Library, Archival and Information Studies (SLAIS). She was looking for an opportunity to gain some hands-on experience and began working for us as a volunteer in late January 2011 and gave us a day of her time per week until heading out for her summer co-op position at the City of Thunder Bay Archives in May.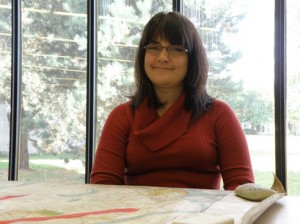 Gaining practical experience while working on a professional degree can facilitate the transition to professional career. Professional archivists often have to deal with diverse records. Jessica is pairing what she is learning in ARST 550: Management of Audiovisual and Non-textual Archives with experience in a couple of institutions, including describing maps here at the City of Vancouver Archives.
Our maps are a popular and rich resource, but not all of the maps in our holdings have been properly described. Jessica helped the Archives and researchers by creating descriptions for maps that were not yet described in our database. This involved looking at each map in need of a description. Care had to be taken when handling each item; some are fragile, many are large and without proper care could tear. Chapter 5: Cartographic Materials is the section of the Rules for Archival Description that is used by archivists across Canada to create consistent map descriptions. Once a map is laid out on the table, Jessica measured it, noting the dimensions, and then recorded other information found on the map including the date, title, cartographer, geographic area(s), the scale to which the map was drawn, the publisher name, as well as other information unique to each map.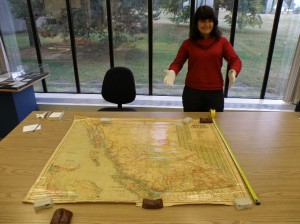 Last summer, Jessica was responsible for most of the research, curation and technical development of a new online historical exhibit launched by the Thunder Bay Archives in September. The exhibit complements the development of Thunder Bay's waterfront and highlights its use as both a park and harbour over a 40-year period. Key features include a virtual tour of the waterfront and birds-eye view of how it has changed over time through aerial photographs.
Jessica holds a Bachelor of Arts honours degree from Queen's University, where she majored in English Language & Literature and minored in Classical Studies. While in her last year at Queen's, Jessica got an early taste of archival work by working as a volunteer archival assistant at Queen's University Archives. Her duties included digitizing archival documents and uploading them to the Archives database and wiki, as well as updating the wiki to provide better user accessibility. Since coming to SLAIS, she's served as the ACA Student Chapter representative and as a member of SLAIS's Archives Mentoring Program.
With the new 2011-2012 term at UBC now underway, we're delighted to have Jessica back with us in her second year, and she is once again hard at work helping us describe our map collection.
Interested in volunteering at the Archives? The number of volunteers we can take on at any given time varies according to the project management and supervisory capacity we have available, but if you'd like to learn more about volunteering, please contact Heather Gordon at heather.gordon@vancouver.ca.