Not officially part of our holdings—you won't find it in our database—the Royal Cigarette Butt was acquired by the first City Archivist, Major Matthews, and we cannot part with it.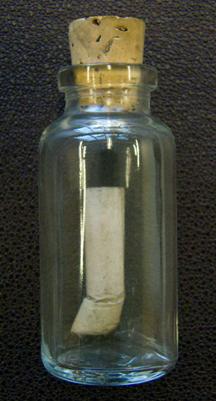 According to The Royal Progress in Vancouver (Item #PAM 1939-115), during their 1939 tour King George and Queen Elizabeth were entertained by a massed choir of 1500 singing outside of City Hall while they were inside.
. . . as their Majesties and the Mayor were in no hurry to leave the Mayor's parlour, the crowd, under the direction of Archdeacon Sir Francis Heathcote, sang in unison:

'We want the king.'

'We want the King.'

The Queen stepped to the window and waved, and immediately there was a roar of approval from those below. The King stubbed out his cigarette and they left the Mayor's parlour to descend to the Plaza.

Now there is a little story about the stub of the King's cigarette. Immediately the Royal Party had gone Mrs. Hilda Pinder-Moss, Assistant Secretary, seized the cigarette stub and placed it in an envelope. No doubt she now exhibits her proud possession to all her friends!
Excerpt from Merry America: Their Majesties' Tour of Canada, United States of America and Newfoundland, 1939, by H. R Pratt Boorman.
The cigarette butt was housed in a glass vial and cushioned within a small cardboard tube, where it remains.