Late last week, our digitization efforts reached a significant milestone: we now have over 100,000 digital objects available online for your use and re-use!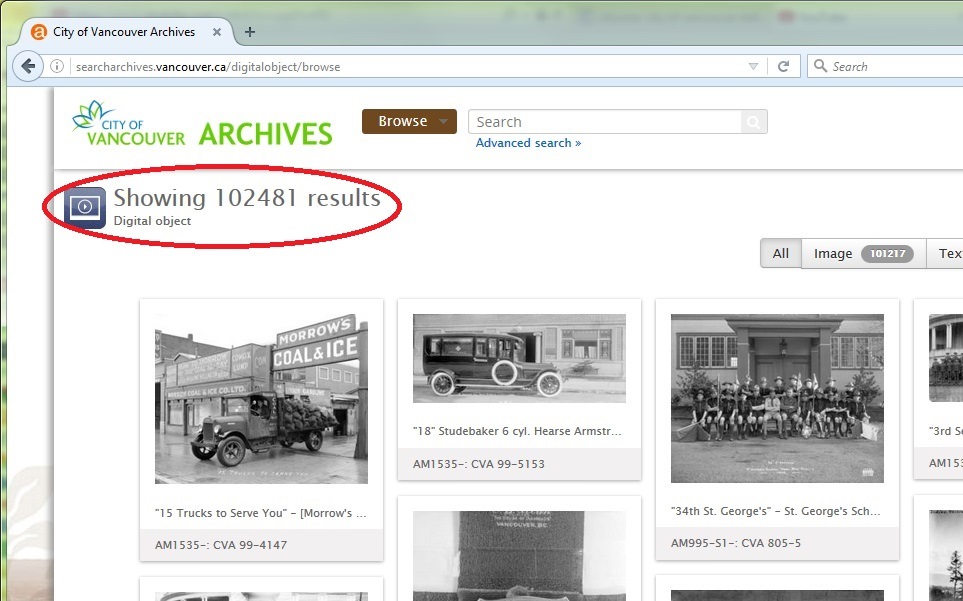 We'll be featuring some of the new content in future blog posts, but here are some examples of what's been added recently: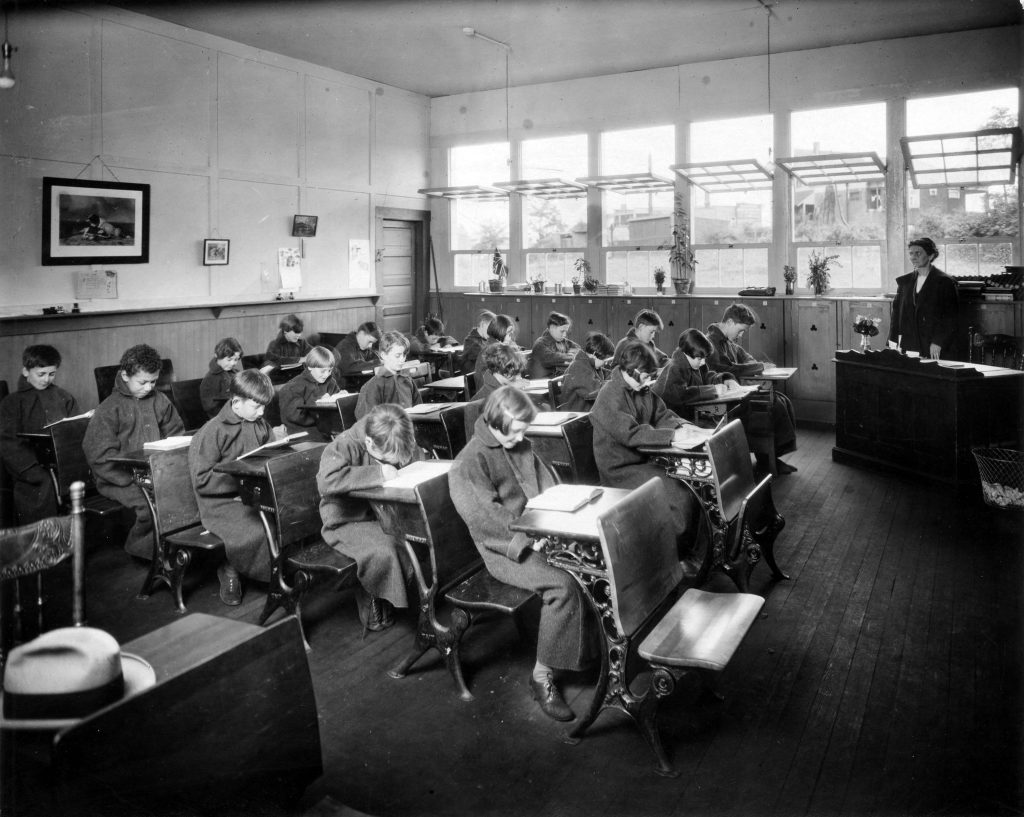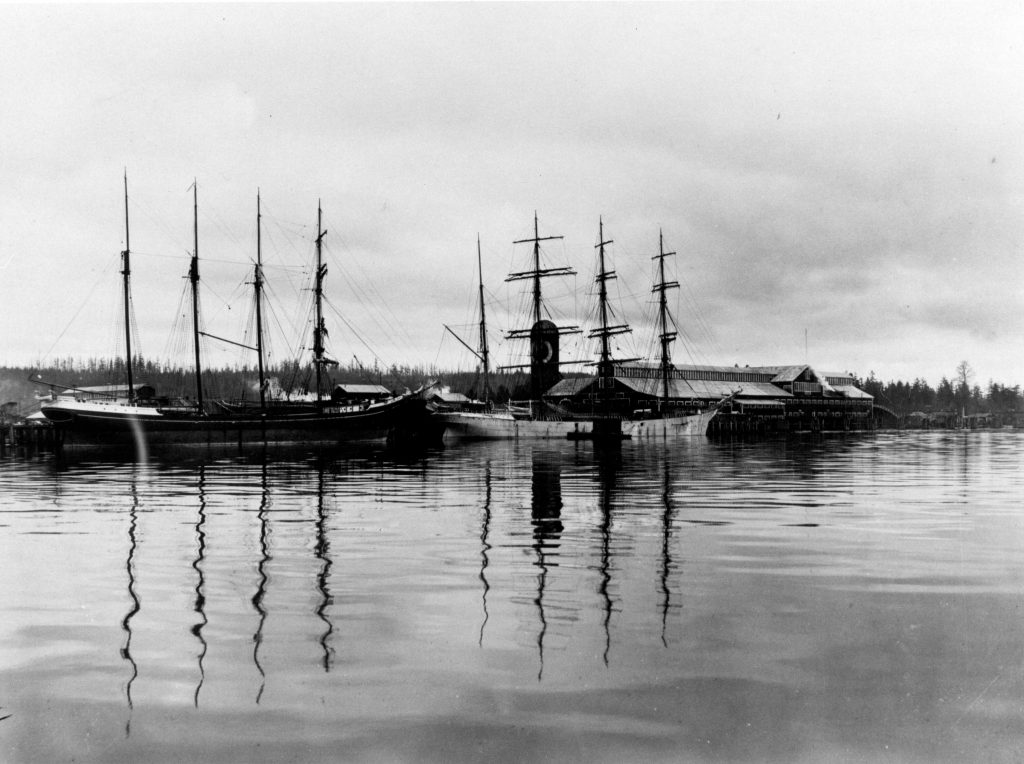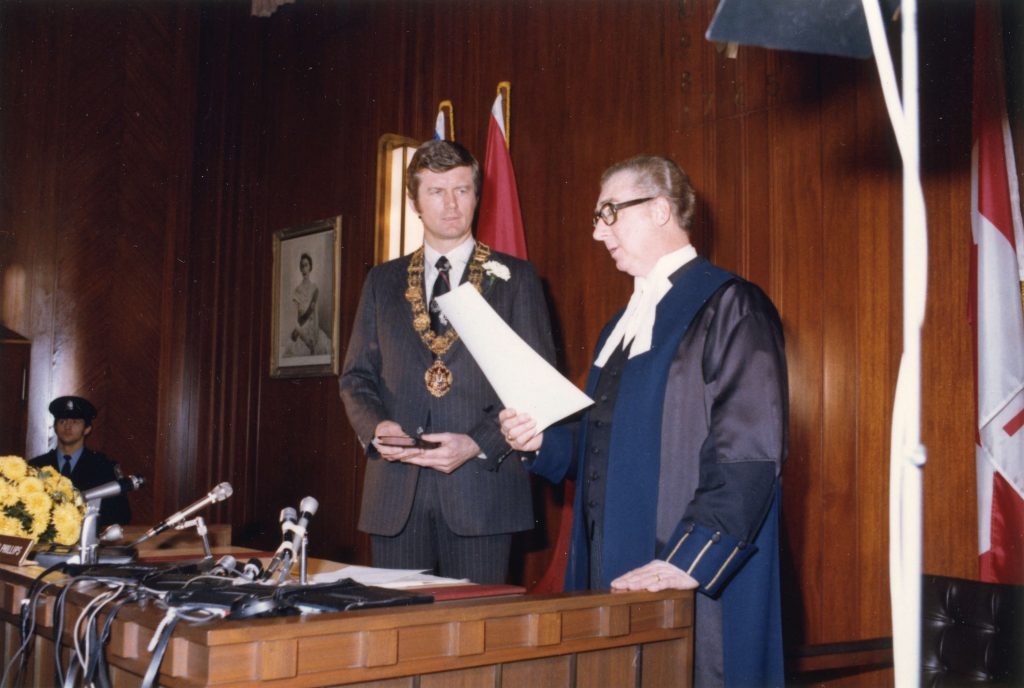 Many of these images are a result of our ongoing project to digitize the content of our CVA photo reference binders. These red binders contain copy prints and photocopies of many of the photographs in our holdings, excluding those in the Major Matthews Photograph Collection. As collections are digitized and uploaded to our database, we pull the reference copies and retire the binders, one after the other. Frequent visitors to our reading room may have noticed their diminishing number. The binders used to occupy 15 shelves. Now we're down to only five.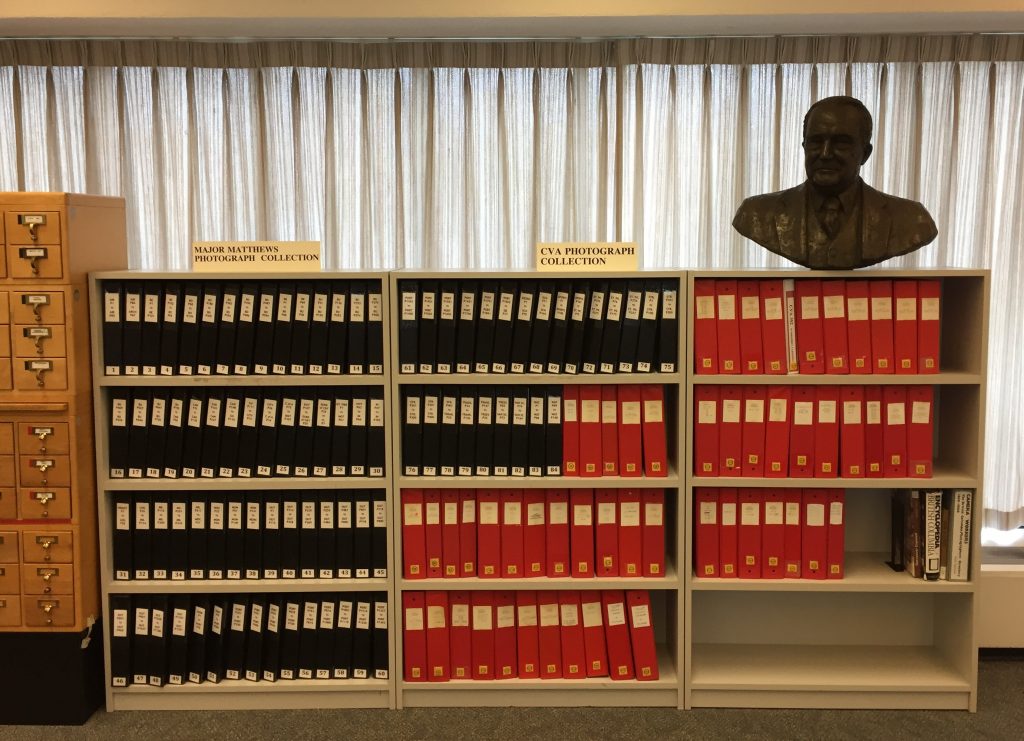 We have more than photographs online, though. There are over 2500 maps and plans available, such as this one showing Vancouver population density by traffic zone: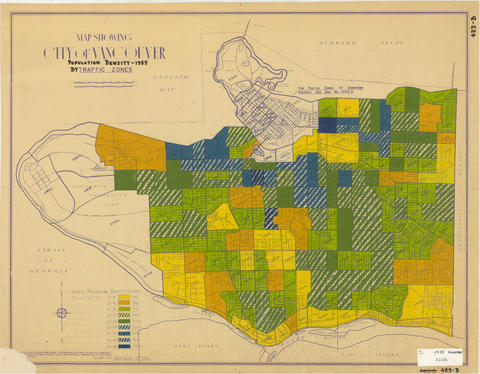 We also have over 540 film and video works online, with more to be uploaded in the coming weeks. Two of our favourites are: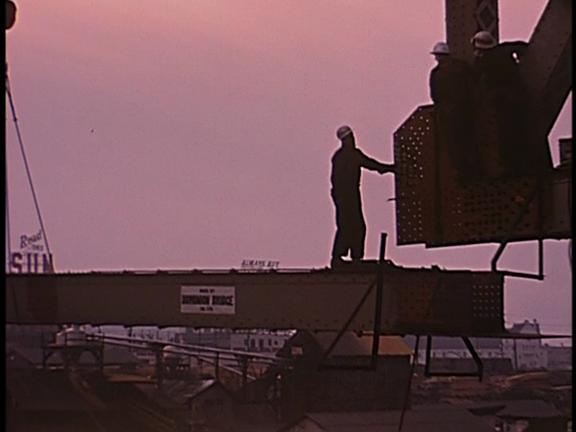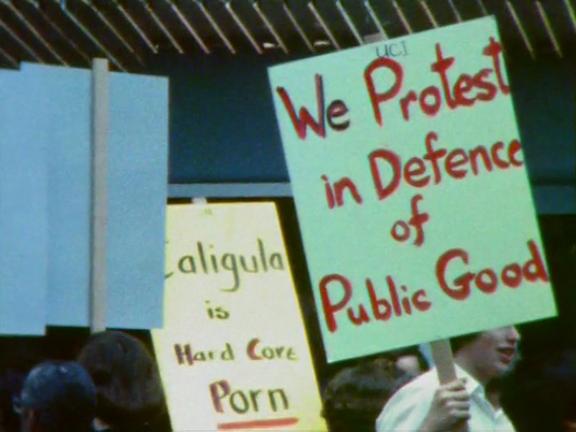 And we have over 230 audio recordings available, mostly from the Dunbar History Project fonds, Yaletown Productions fonds and Vancouver Centennial Commission fonds. Check out a recently added recording of Frank Sinatra inviting residents of Vancouver to the Centennial celebration kickoff event and wishing Vancouver a happy 100th birthday.
Also available online are 554 sets of 1970s City Council minutes representing 23,000 pages of text: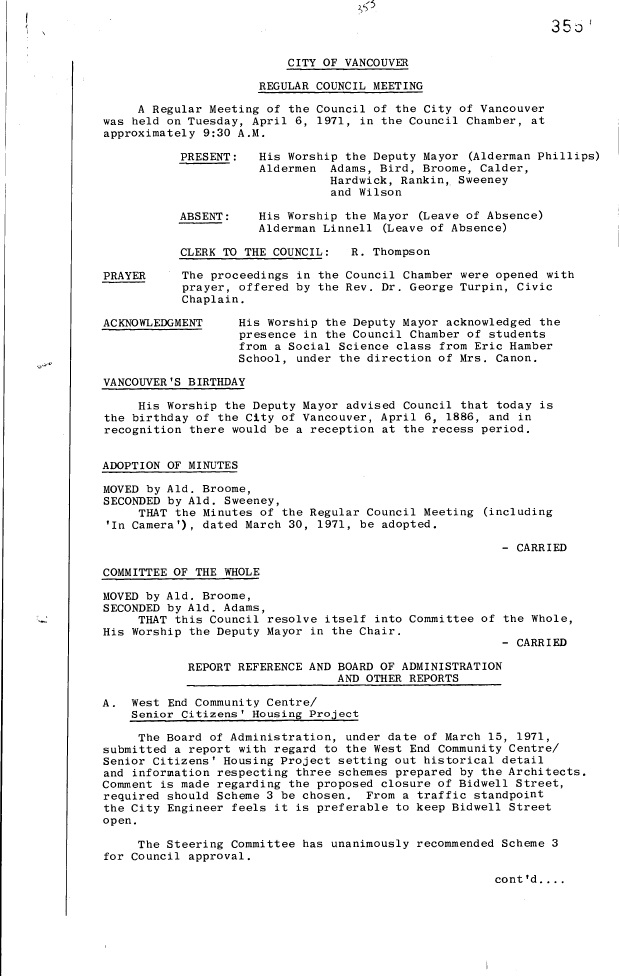 And here is a newly-added image of the 1975 City Council being sworn into office: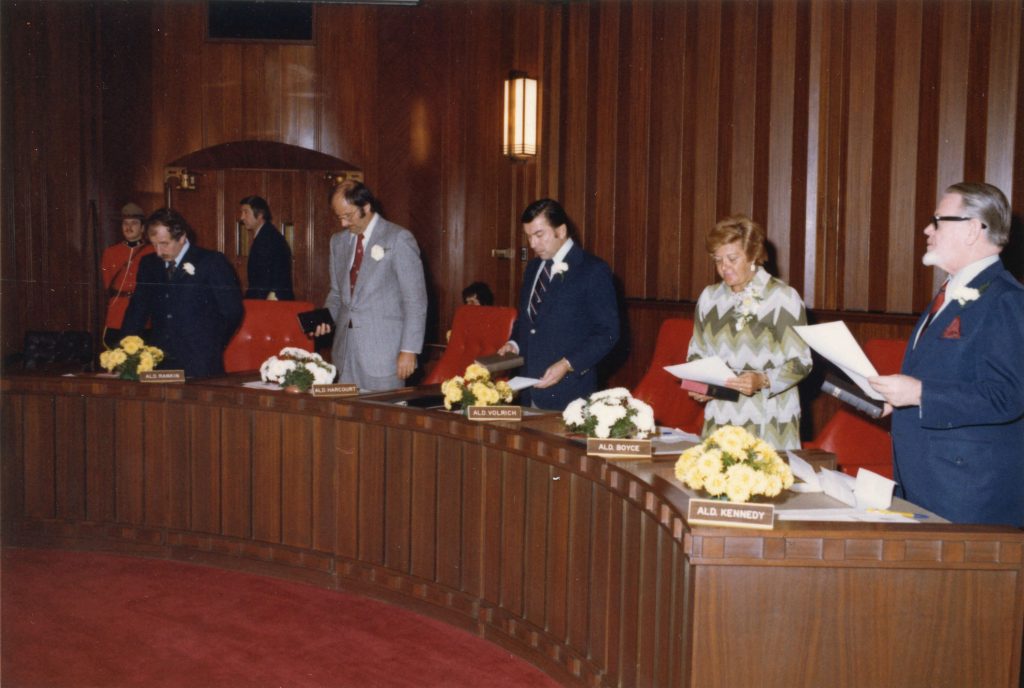 These digital resources would not be available without the support of a number of generous funding agencies and individual donors over the years. Since 2002, the Friends of the Vancouver City Archives has contributed to the description and digitization of our photographic holdings, securing over $133,000 in BC Community Gaming grants and matching that with over $103,000 from memberships, donations and event ticket sales. The BC History Digitization Program has been a source of digitization funding for photographs, maps and plans and text since 2007. Prior to 2009, we made use of funding from the Department of Canadian Heritage and Library and Archives Canada through the Canadian Council of Archives. Organizations such as Lantic Inc. and the Dunbar Residents Association have contributed to specific projects as well.
We'd love to hear how you make use of these resources, and we look forward bringing you many more.