With thanks to funding from the British Columbia History Digitization Program we are pleased to announce that we have recently completed a project to digitize over 830 audio tapes and four video tapes from the Co-op Radio fonds. The audio and video files have been uploaded to the Archives online database with accompanying descriptions and are available to be viewed and listened to freely.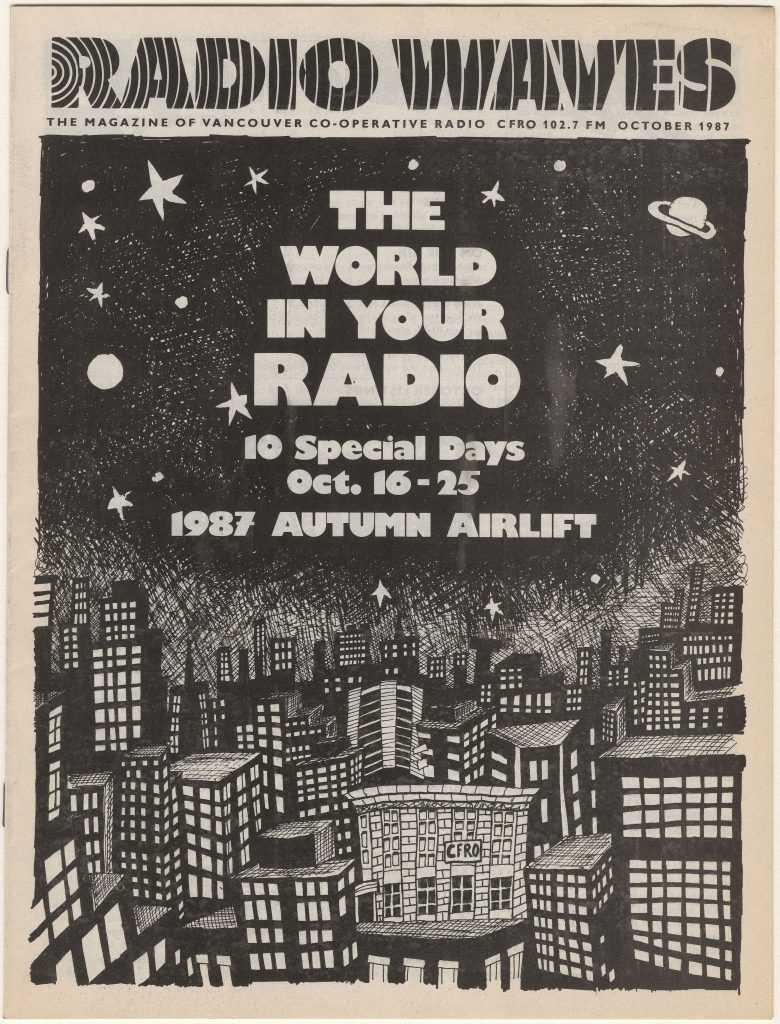 In 1974 Vancouver Co-operative Radio (Co-op Radio) received their first license from the Canadian Radio-Television and Telecommunications Commission and proceeded to set up a station at 399 Carrall Street beside Vancouver's Pigeon Park. The station aired its first show on April 14, 1975 and has been on the air ever since. In the mid-1990s, Co-op Radio moved locations to 337 Carrall Street and then again to 370 Columbia in 2001. In 2014 the station temporarily relocated to 2014 Wall Street due to building renovations but returned to 370 Columbia Street in 2017. A non-commercial, co-operatively-owned and listener-supported station, its mandate has been to provide space for under-represented and marginalized communities in the media. Additionally, the station has offered an alternative to conventional media and challenges mainstream media coverage.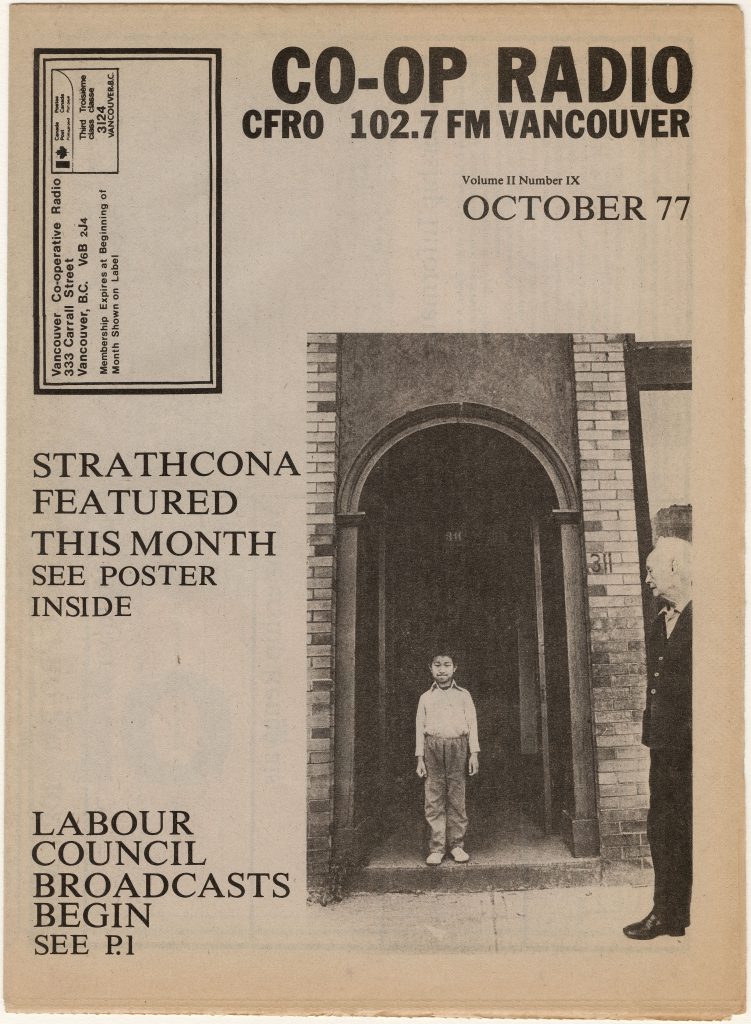 The Co-op Radio fonds consists primarily of recordings of Vancouver Co-op Radio spoken word programs including The Lesbian Show, Woman Vision, Brown Bagger, Redeye, Union Made, Soundwalking, Airlift and various other shows covering diverse content such as local and international news, politics, activism, war and peace, environmental work, grassroots and Indigenous organizing, arts and culture, and literary readings. For example, one episode of The Lesbian Show looks at some of the challenges and systemic issues around parenting and includes interviews with lesbian mothers and children.
Another example of the kind of content that can be found in the Co-op Radio fonds is an episode of Union Made hosted by Sharon Nap. The episode features interviews with Sue Harris and Al Anderson (Downtown Eastside Residents Association); reports by Mark McGuire on unemployment and health, and unemployment and women with Ida [Nishaka] (Douglas College); and John Carter with the Union Made news.
The fonds also contains recordings of lectures and conferences. Many of these recordings can be found in the Brown Bagger file. The In Visible Colours conference, an international women of colour and third world women film/video festival and symposium, was hosted in Vancouver in November of 1989. There are quite a few recordings from panels during this conference. One interesting example is a recording from a panel entitled "Celebrating Our Cinema." Panelists include: Pratibha Parmar, Loretta Todd and Ayoka Chenzira.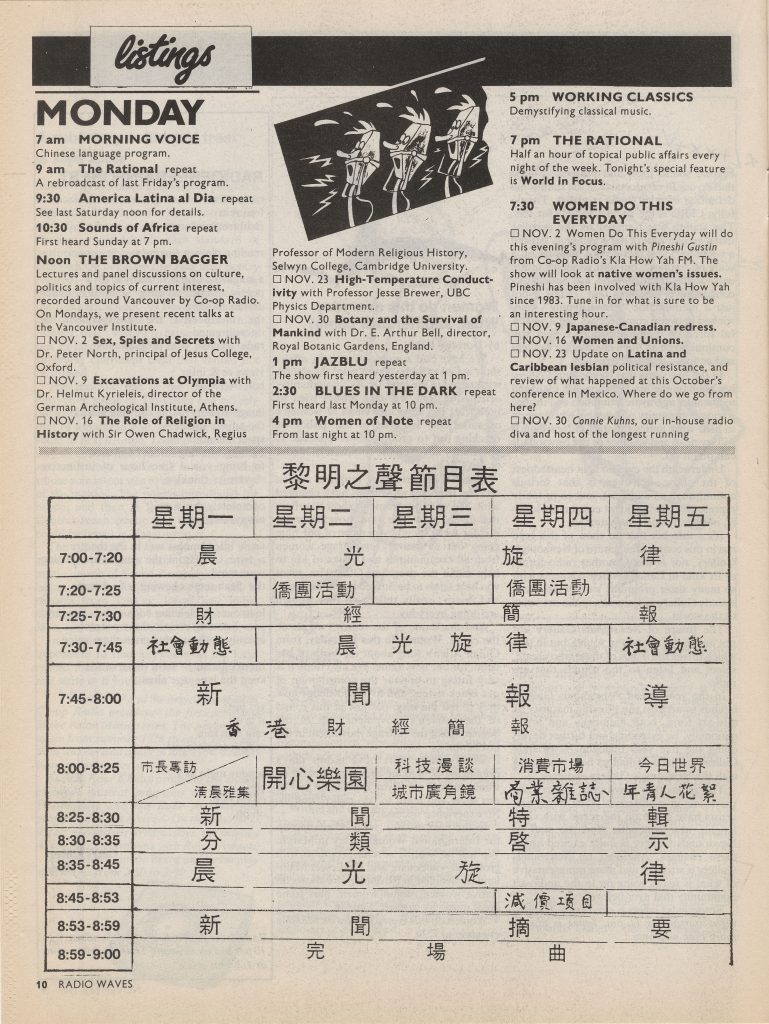 Also included in the fonds are published program guides containing show schedules and articles, and four video recordings showing news segments about Co-op Radio and Co-op Radio events and happenings.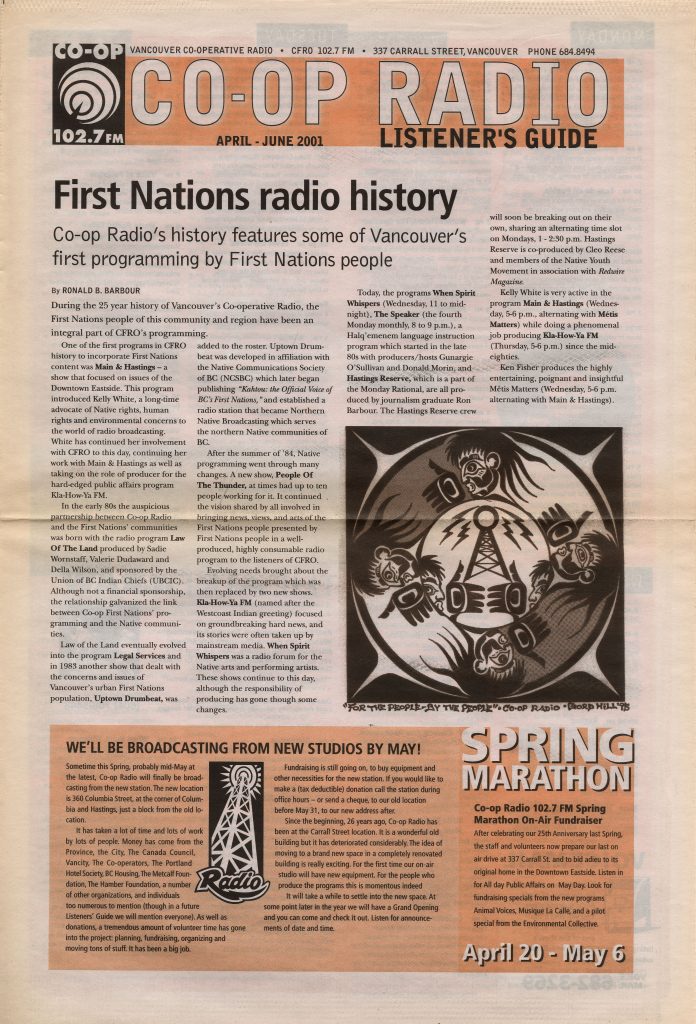 The recordings provide a unique record of subversive media practices and social/cultural/political work in Vancouver and the Lower Mainland since 1975. This rich resource may be of interest to researchers, artists, radio producers, academics, activists, Indigenous organizers and communities, LGBTQ2+ communities, historians, politicians, educators and Vancouverites who are interested in the political, social and cultural landscape of Vancouver and British Columbia.